I was born, raised and educated in Romania (where I got my "nice little accent"). In 2009 I found myself in Paris by chance, after a year and a half of internship in pediatric neurology.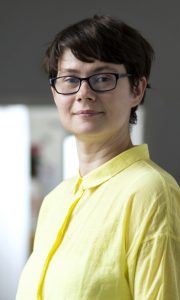 Initially I had to stay for 6 months, but eventually I've stayed for several years … During my internship, I discovered the myology and the world of research within a young and very dynamic team.
Alongside with my clinical work, patients' follow-ups with neuromuscular diseases, I am very interested in the research work on ActiMyo® – "the youngest member" of our team. Good command of English and French (I'd also like Swedish, but … there is still work) makes my professional and personal interactions easy and enriching.
Music and cinema make me very happy, as well as photography. But above all I prefer spending every spare minute with two the most important people in my life who fulfill me.
Among the animals in the I-Motion mural, I choose the magnificent chameleon. Not only because it changes colour to show its disposition, but also because it integrates with its environment.