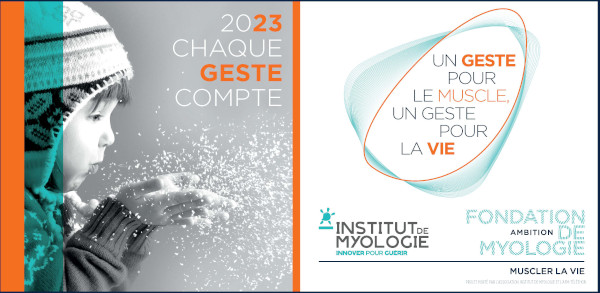 Dear patients and their families,
Dear donors,
Dear partners,
All the teams and collaborators of the Institute of Myology send you their best wishes for happiness and success and wish you excellent health. May this new year, full of promise, be synonymous with progress and success and enable us to accomplish the projects we cherish.
We would like to extend our heartfelt thanks to all the generous donors who supported us in 2022, despite an environment that remains challenging. Your continued support and renewed trust are essentiel for the research and care activities conducted by our Institute's laboratories and departments. Each of your donations enables us to move forward in our research and scientific and medical advances in favour of rare diseases. We all share the same conviction: Further progress in the knowledge of muscle for a better health for all!
Each day, by pushing the limits of knowledge, our researchers are exploring new ways to better understand muscle and develop new diagnostic and therapeutic solutions to combat neuromuscular disease.
As we are well aware, each study, research and clinical trial requires a long-term commitment and appropriate means: The medical progress of tomorrow depends on the research of today. It is therefore vital to pursue our efforts!
Together, we form a united and committed team to achieve our Ambition Myology Foundation and give new momentum to the study of Muscle, a public health challenge.
When it comes to fighting disease, every action matters. Thank you for your unwavering understanding and everything you do for us and most importantly WITH US!
To continue to support us, please click here > Ambition Fondation de Myologie
THANK YOU !
Pr Bertrand Fontaine, Medical and Scientific Director of the Institute of Myology
Dr Vincent Varlet, Secretary General of the Institute of Myology