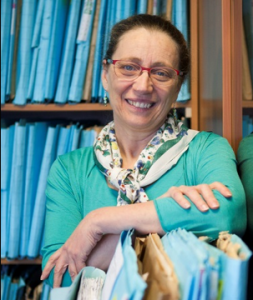 Odile Boespflug-Tanguy, a paediatric neurologist at the Robert Debré Hospital, has just become head of the I-Motion Institute, in addition to her position as president of the AFM-Téléthon Scientific Advisory Board. She is a paediatrician and researcher by training, and has also headed, during her career, the Auvergne Reference Centre for Neuromuscular Diseases (Centre de référence des maladies neuromusculaires d'Auvergne).
  

What direction do you wish to give the Institute?

The aim of my appointment is especially to strengthen the links between fundamental research, which I see through my presidency of the Scientific Advisory Board, and the setting up of clinical trials. Therapeutic trials require that one thinks at a very early stage about the type of patient that the medicine is aimed at and what this medicine is supposed to act on. Thus, when performing a preclinical trial on animals, if you are not already thinking about what disease it may apply to and what type of medicine you can use, when you look at the efficacy in animals, you will not automatically be looking at the aspects that will be most interesting with respect to the disease. Therefore, when performing a preclinical trial, it is very important to have an idea of the disease that is of interest and the way in which it will be possible to assess this disease at a later stage.
How will this change be implemented?

At an institutional level, at the AFM-Téléthon Scientific Advisory Board, it involves reorienting research projects towards scientific excellence by supporting and training the clinical teams at an early stage. And inversely, it involves being able to sense at what point a fundamental research project has been advanced sufficiently in order to transition to preclinical trials (and therefore always connected to a possible future clinical trial). The interface between the preclinical and clinical research platforms is very important to the efficacy of the process; otherwise, an enormous amount of time is lost. We must encourage the building of a bridge between researchers and clinicians as early as possible, so that they are using a common language to communicate; this is why we encourage the doctors to understand the scientific process.
How about at the laboratory level?

The speed at which we approach the therapeutic trial is a key parameter; hence, the importance of "building a bridge"! If sufficient thought has not been given at an earlier stage, 2 or 3 years can be lost, with the need to redo studies in animals because the research has not followed the protocol that will later be required by the regulatory authorities before human trials can proceed. I would say that you really need the preclinical trial designer to be working together with the clinical trial designer! It is this link that must be continuously improved, between researchers, clinicians and patients, and that is crucial for I-Motion and for the Institute of Myology.
What impact will this have on day-to-day practices at I-Motion?
We will continue to work with sponsors developing medicines, to create trials, but we must also work, in our own right, at a much earlier stage, especially in respect of the natural history of the diseases, and the design and development of the tools needed to assess the clinical outcome of patients. If we look at diseases such as SMA and DMD, for which many trials have now been conducted, it is easy to answer these questions. However, if we look at rarer diseases such as myotubular myopathy, the natural history of the disease that we have been documenting for the last few years has allowed us to propose an assessment for the current therapeutic trial. These studies should be conducted for all the rare diseases that we know of. It becomes very important to conduct research that goes beyond the therapeutic trial requested by the sponsor.
I would also like to help and support trials that tend to require European and/or National support funds (French Clinical Research Hospital Program (PHRC) for rare disease research, local authorities, patient associations, etc.), due to their more "risky" nature for healthcare companies, involving innovative therapeutic strategies or ultra-rare diseases. This is especially important since France is currently the coordinator for the European Reference Networks Centre specialising in neuromuscular diseases, the ERN-NMD, and can therefore easily play an initiating role. Furthermore, and this is also very important, this means that we do not depend purely on healthcare company sponsors, thus guaranteeing our independence in terms of the choice and conduct of a proportion of our projects.
You would therefore like to broaden the range of I-Motion activities?

Within a few years, and thanks to the expertise of my predecessors, Laurent Servais and Teresa Gidaro, I-Motion has convinced people of its efficacy at the international and European level: numerous sponsors have come to us to ask us to conduct trials. Now, for American pharmaceutical companies, we have become an ideal location for a European centre. In the area of rare diseases, they need to have access to expert centres that are able to access patients very quickly, and to an effective clinical trial platform. I-Motion now has experienced CRAs (clinical research assitants) capable of designing clinical research studies applied to NMDs, physiotherapists who are familiar with all the scoring systems that can be used, and patients who are being followed as a cohort in consultation. We are the only centre in France to have conducted so many clinical trials. I-Motion must be a catalyst in providing coverage of this territory with such facilities within the context of the multi-site reference centres of the FILNEMUS programme and in connection with the strategic research centres that AFM-Téléthon is supporting.
Why is it important that patients be followed up at the clinical trial centre?

For me, it is essential that a clinical research facility is backed by consultations where patients attend for their routine consultations or for a diagnostic opinion. Indeed, it is absolutely essential that one continues to see all types of disease, to know and understand how to steer future therapeutic trials, and to be familiar with the daily care that patients receive. This is why it is so important to work with these reference centres. While the reference centre for adult NMDs is part of the Institute of Myology, this is not the case for us and we would like to incorporate the patient follow-up activity within I-Motion into the child NMD reference centre at the Armand Trousseau Children's Hospital in order to optimise the management of care and clinical trials for patients.
Up to now, with the AFM-Téléthon Scientific Advisory Board, I have very much focused on the transition from fundamental research to clinical research. Now, my ambition is to make sure that clinical research is strongly linked to care, and that those involved in the therapeutic trials are also involved in dispensing the medicines once marketing authorisation has been obtained. Indeed, if the reference centre is familiar with the drug molecule because it has participated in the trials, the transfer to patients occurs much more quickly since the relevant know-how is already in place. The follow-up of patients after treatment occurs in continuity with the trials, which is much more effective, to the great benefit of patients, but also to the benefit of the supervisory authorities in following up the benefits/risks.