Il y a plusieurs années, nous avons créé un modèle de souris transgéniques (DMSXL) porteuses de grandes séquences génomiques humaines (45kb) contenant le gène DMPK et la plus grande expansion de triplets répétés CTG introduite chez la souris jusqu'à présent (> 1500CTG). Ces souris présentent une importante instabilité intergénérationelle et somatique des triplets CTG et reproduisent certaines caractéristiques moléculaires et physiologiques de DM1.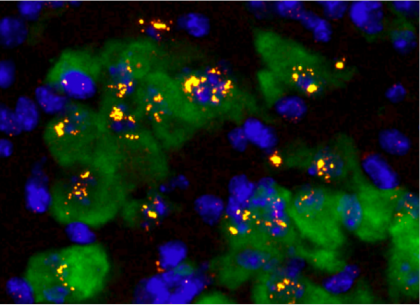 Nos recherches suivent 3 axes :
Mécanismes impliqués dans l'instabilité des trinucléotides répétés

Dans les modèles cellulaires, murins et dans les familles DM1

Conséquences moléculaires et physiopathologiques des expansions CTG

A l'origine de l'atteinte du système nerveux central
impliquées dans la forme congénitale de la maladie.

Tests précliniques chez la souris DM1

Phénotypes moléculaires et physiologiques du muscle et du cerveau
Membres

Geneviève GOURDON, PhD, DR-Inserm, Group leader
Mario GOMES-PEREIRA, PhD, CR-Inserm
Stéphanie TOME, PhD, CR-Inserm
Aline HUGUET-LACHON IE, Université
Hélène BENYAMINE, IE
Anchel GONZALEZ, Post-Doc
Mouli CHAKRABORTY, Post-Doc
Antoine MANGIN, AI
Aurélien CORDIER, AI
Sandra BRAZ, Doctorante
Élodie DANDELOT, Doctorante
Contact  : genevieve.gourdon@inserm.fr
Principales publications
Tomé S, Dandelot E, Dogan C, Bertrand A, Genevieve D, Pereon Y, French DM-scope consortium, Simon M, Bonnefont JP, Bassez G and Gourdon G. Unusual association of a unique CAG interruption in 5' of DM1 CTG repeats with intergenerational contraction and low somatic mosaicism. Human mutation, 2018 Jul;39(7):970-982. doi: 10.1002/humu.23531
Jauvin D, Chrétien J, Pandey SK, Martineau L, Jauvin D, Chrétien J, Pandey SK, Martineau L, Revillod L, Bassez G, Huguet-Lachon A, McLeod AR, Gourdon G, Wheeler TM, Thornton CA, Bennett CF and Puymirat J. Targeting DMPK with Antisense Oligonucleotide Improves Muscle Strength in Myotonic Dystrophy Type 1 Mice. Molecular Therapy- Nucleic Acids. 2017 Jun 16;7:465-474. doi: 10.1016/j.omtn.2017.05.007.
Sicot G, Servais L, Dinca D, Leroy A, Prigogine C, Gall D, Dan B, Medja F, Braz S, Chhuon C, Huguet-Lachon A, Chuon C Nicole A, Gueriba N, Oliveira R, Dan B, Furling D,Swanson MS,Guerrera IC, Cheron G, Gourdon G and Gomes-Pereira M. Downregulation of the glial GLT1 glutamate transporter and Purkinje cell dysfunction in a mouse model of myotonic dystrophy. Cell reports, 2017 Jun 27;19(13):2718-2729. doi: 10.1016/j.celrep.2017.06.006.
Michel L, Huguet-Lachon A, Gourdon G. Sense and Antisense DMPK RNA Foci Accumulate in DM1 Tissues during Development. PLoS One. 2015 Sep 4;10(9):e0137620. doi: 10.1371/journal.pone.0137620.
Algalarrondo V, Wahbi K, Sebag F, Gourdon G, Beldjord C, Azibi K, Balse E, Coulombe A, Fischmeister R, Eymard B, Duboc D, Hatem SN. Abnormal sodium current properties contribute to cardiac electrical and contractile dysfunction in a mouse model of myotonic dystrophy type 1. Neuromuscular Disorders. 2015 Apr;25(4):308-20. doi.
Brouwer J, Huguet A, Nicole A, Munnich A and Gourdon G. Transcriptionally repressive chromatin remodelling and CpG methylation in the presence of expanded CTG-repeats at the DM1 locus. Journal of Nucleic Acids. 2013:567435.
Decostre V, Vignaud A, Matot B, Huguet A, Ledoux I, Bertil E, Gjata B, Carlier PG, Gourdon G, Hogrel JY. In vivo muscle function follow-up of the DMSXL mouse model of myotonic dystrophy type 1. Neuromuscular Disorders. 2013 Dec;23(12):1016-25
Hernandez-Hernandez, O, C. Guiraud-Dogan, G, Sicot, A Huguet, S. Luilier, E. Steidl, S. Saenger, E. Marciniak, H. Obriot, C. Chevarin, A. Nicole, L. Revillod, K. Charizanis, K.-Y. Lee, Y. Suzuki, T. Kimura, T. Matsuura, B. Cisneros, M.S. Swanson, F. Trovero, B. Buisson, J.-C. Bizot, M. Hamon, S. Humez, G. Bassez, F. Metzger, L. Buee, A. Munnich, N. Sergeant, G. Gourdon, and M. Gomes-Pereira, Myotonic dystrophy CTG expansion affects synaptic vesicle proteins, neurotransmission and mouse behaviour. Brain, 2013. 136: 957-970.
Panaite PA, Kuntzer T, Gourdon G, Lobrinus JA, Barakat-Walter I. Functional and histopathological identification of the respiratory failure in a DMSXL transgenic mouse model of myotonic dystrophy. Dis Models & Mechanisms. 2013 May;6(3):622-31. doi: 10.1242/dmm.010512. Epub 2012 Nov 23.`Huguet, A, Medja F, Nicole A, Vignaud A, Guiraud-Dogan C, Ferry A, Decostre V, Hogrel JY, Metzger F, Hoeflich A, Baraibar , Gomes-Pereira M, Puymirat J, Bassez G, Furling D, Munnich A, and Gourdon G. Molecular, Physiological, and Motor Performance Defects in DMSXL Mice Carrying > 1,000 CTG Repeats from the Human DM1 Locus. Plos Genetics, 2012. 8(11).
Autres publications