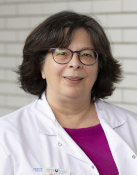 Team leader: Dr Teresinha Evangelista, MD
The Risler Pavilion Laboratory is dedicated in particular to the morphological identification and characterisation of genetic neuromuscular diseases in the adult and child. The Morphological Unit is part of the European Reference Network for Rare Neuromuscular Diseases (ERN EURO-NMD) and the French Reference Centre for Neuromuscular Diseases North / East / Ile-de-France
This laboratory is recognised for the scientific value of its work, its experience in human muscle biopsy analysis and its mastery of morphological techniques. Several fundamental and complementary activities are also carried out:
Histo-enzymological analyses of frozen muscle sections
Immunocytochemical analyses using specific antibodies directed against different muscle cell proteins : (dystrophin, sarcoglycans, dystroglycans, dysferlin, caveolin, collagen, desmin, myotilin, myosin etc.)
Ultrastructural analyses by electron microscopy
Western blot analysis
MND diagnosis
Centre for reference for neuromuscular disease diagnosis
Designing or participating in research programmes necessitating this expertise
Training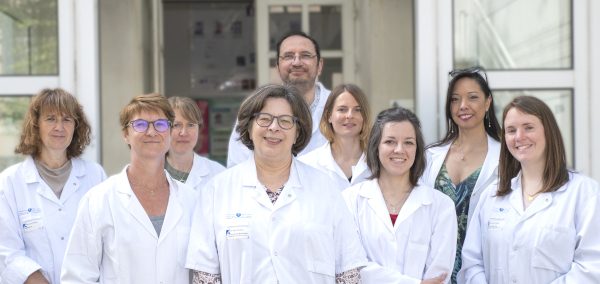 Team members
Dr Teresinha EVANGELISTA (MD), Team leader, Hospital Practitioner, researcher
Mme Favienne LEVY-BORSATO, Secretary
Mme Emmanuelle LACENE, Clinical Research Assistant
Mme Mai Thao BUI, Research Technician
M Guy BROCHIER (PhD), Research Technician Assistant
Mme Angéline MADELAINE, Laboratory Technician
Melle Anais CHANUT, Laboratory Technician
Mme Clémence LABASSE, Research Technician
Mme Maud BEUVIN, Laboratory Assistant
Dr Norma B. ROMERO (MD, PhD), Volunteer Consultant
Contact
01 42 16 22 42
01 42 16 22 43
Diagnosis of NMD
We analyse muscle biopsies in our laboratory, with the precise aim of diagnosing muscle pathologies. Some muscle samples from the laboratory's collection are re-analysed using new tools resulting from advanced research methods.
This activity is very directly linked with the concrete needs of patients.
Requests come either from the Pitié-Salpêtrière Hospital Group:  the Neuromuscular Pathology consultation of the Institute of Myology at the Salpêtrière (Prof Bertrand Fontaine), the Internal Medicine department of Dr Olivier Benveniste, or from hospitals outside the Pitié-Salpêtrière Group (Necker-Children's, Robert Debré, Val de Grâce, Institute of Childcare and Rothschild in Paris, Raymond Poincaré in Garches, Central Hospitals of Poissy, Montreuil etc).
Reference centre for diagnosis of NMD
In our capacity as a Centre of Expertise of Neuromuscular Pathology, we are asked to respond to requests from other centres in France and abroad.
We are frequently approached to:
give a second opinion about examinations already carried out elsewhere ; we regularly receive biopsy sections in cases of diagnosis difficulties (about sixty cases a year).
complete the analyses of muscle samples taken by other laboratories in Paris or the provinces. These samples are analysed using specialist techniques, not available in all laboratories.
help different French and foreign laboratories (by taking samples for research).
Participation in research projects
The aim of this work is to contribute to the characterisation of new or as yet unidentified neuromuscular diseases (in collaboration with : M. Bitoun, G. Bonne, D. Hantaï, A. Ferreiro, F. Leturcq, P. Richard, J. Lunardi, N. Monnier, J. Laporte, V. Biancalana, A. Oldfors, F. Muntoni, N. Clarke, N. Laing, C.Wallgren-Pettersson, AL Taratuto etc)
. The goal of this work is to contribute at the characterisation of new or not yet identified neuromuscular diseases (in collaborations).
To be mentioned here:
The first protocol of gene therapy done in humans. This phase I essay of clinical research, without any direct benefit for the patients, has been performed using a plasmid with total cDNA of dystrophin in patients with disease of Duchenne or Becker. The principal investigators were Pr Michel Fardeau (Institut de myologie) and Pr Serge Herson (Internal medicine CHUPS). This essay has been performed in collaboration with the Transgene collaboration.
The immunocytochemical, histo-enzymological and ultrastructural analyses of abnormalities associated with congenital myopathies, in particular core myopathies (Central Core Disease (CCD), Multi-minicore), correlated with molecular studies, allows to bring precisions at the clinical entities which are not yet well defined or differentiated. In the domain of congenital myopathies with cores, we have also contributed to the clinical and morphological characterisation of patients with CCD linked or not-linked with the gene RYR1.
In the domain of congenital myopathies, we have also contributed at the study of nemalin myopathies (NM) with the identification of one of the first children with a severe form of NM, which was associated at a mutation stop of the gene ACTA1 and at the study of myopathies with congenital fiber type disproportion (CFTD) linked at the gene TPM3.
Thanks to the immunocytochemical study with antibodies against alpha- and beta-dystroglycan, collagen VI and perlecan, which we have systematically introduced in our laboratory, it has been possible to perform a reclassification of multiple muscular dystrophies of at that time unknown origin. In this domain, we have contributed to the identification of congenital muscular dystrophy associated at collagen 6, as well as to the study of muscular dystrophies with deficiency in alpha-dystroglycan, linked or not-linked at the gene FKRP.
A first clinical and morphological analysis of a large series of patients with a congenital myopathy of the centronuclear type (CNM) has been performed. This work has contributed in an important way to linkage analyses on the autosomal dominant form of CNM and to the identification of the causal gene DNM2 that encodes Dynamine 2. Next, we have described the selectivity of the muscular affection in patients with a DNM2 mutation by a clinical and muscle imaging study. Later, we have identified the severe clinical and sporadic forms associated with DNM2.
Next, we concentrated our interest on the histopathological analysis of patients in whom a mutation in DNM2 had been excluded. These patients make up a heterogeneous group with as common characteristic a variable number of fibres with internalized nuclei. This work has led to a classification in several subgroups of patients based on the morphological aspects observed at the muscular biopsy, as well as the mode of transmission and the clinical presentation.
We have also identified a group of CNM patients that presented a curious morphological feature characterized by the presence of a variable number of fibers « en collerettes » or "dark necklace" fibres (DNF). These dark necklaces are situated a few micrometers of the sarcolemma and have been observed in the two types of fibres. The dark necklaces are colored by HE, GT, PAS, NADH-TR, SDH and COX, but they are not stained by myofibrillar ATPase. Some nuclei are aligned with the dark necklace. The ultrastructural analysis showed that the dark necklace consists of myofibrils with a small diameter, which are surrounded by mitochondria and sarcotubular structures. The immunohistochemical analysis has shown an intense staining with the anti-SERCA1 and SERCA2 antibodies, bot not with the other proteins of the sarcoplasmic reticulum (calsequestrin, the ryanodin receptor, triadin), and the T-tubule (dihydropyridin receptor-alpha1subunit). We have observed a moderate reaction with the anti-desmin and alphaB-crystallin antibodies, but less with anti-myotilin. Clinically, it is sporadic cases, with symptoms that started in the first decennium of their lives, with a proximal weakness of the lower limbs and a slowly progressive evolution. The genetic analysis has permetted to exclude mutations in the genes DNM2, hJumpy and BIN. The analysis of the gene MTM is currently performed. The mechanism of this defect in the organisation of the sarcoplasm still has to be elucidated.
We are studying the clinical, immunohistochemical and ultrastructural characteristics in patients with myofibrillar myopathy (MFM). The ultrastructural findings in 19 patients with different genetically-proven MFMs (9 desmin, 5 alpha-B-crystallin, 3 ZASP, 2 myotilin) were analyzed. In one patient with a ZASP mutation, we additionally performed an immuno-electron microscopic (EM) study, using antibodies against desmin, alpha-B-crystallin, ZASP and myotilin. The ultrastructural findings in desminopathies and alpha-B-crystallinopathies were very similar and consisted of electrondense granulofilamentous accumulations and sandwich formations. They differed in the presence of early apoptotic nuclear changes in alpha-B-crystallinopathies. ZASPopathies were characterized by filamentous bundles (labeled with the myotilin antibody on immunoEM), and floccular accumulations of thin filamentous material. Tubulofilamentous inclusions in sarcoplasm and myonuclei in combination with filamentous bundles were characteristic for myotilinopathies. We conclude from this study that MFMs ultrastructural findings can direct diagnostic efforts towards the causal gene mutated, and that EM should be included in the diagnostic workup of MFMs. The immunohistochemical study involves 15 patients with a genetically-proven MFM (7 desmin, 3 alpha-B-crystallin, 3 ZASP, 2 myotilin) in whom we used 23 antibodies including several novel antibodies against distinct Z-disc and M-line proteins. This study is performed in collaboration with Dieter O. Fürst and Peter F.M. van der Ven of the Institute for Cell Biology, Department of Molecular Cell Biology, University of Bonn, Bonn (Germany) and with Rudolf Kley of the Neurologische Univ.-Klinik Bergmannsheil, Ruhr-Universität Bochum, Bochum (Germany). The results of this study are currently being analyzed.
Training
Teams working on the study of muscular diseases have expressed an interest in following up or improving their training in muscular biopsy analysis (example: Study group Meetings in Myology organised at the Institute of Myology etc).
For several years now, we have received physicians for training courses in the diagnosis of muscular diseases and/or postdoctoral trainings, and technicians for training in sampling techniques and the processing of biopsies. Last years, we received Michele Roccella (Palerme), Pierre-Yves Jeannet, (Lausanne), Haffed Haddad (Tunis), Simona Gambelli (Sienne), Muriel Herasse (Paris), Fabiana Lubieniecki (Buenos Aires), Soledad Monges (Buenos Aires) et  Javier Linzoain (Córdoba). In 2008, we will welcome Felipe Andreinolo, neuropathologist of Brasil (Sao Paulo) and  Jorge Bevilacqua, neurologist of Chili (Santiago)
The Risler Pavilion now has a specially adapted and equipped meeting room for up to 15 people in order to bring together physicians and scientists with an interest in Neuromuscular Pathology. Several regular meetings are held there:
Meetings to compare genetic/morphologic/pathological/clinical results (monday) with the regular participation of Dr F. Leturcq,  Dr S. Quijano, Dr P. Laforet, Dr G. Bonne, Dr R. Ben Yaou, Dr P. Richard, Dr A. Behin, Dr T. Stojkovic, Dr T. Evangelista, Dr C. Métay.
Patient record discussion meetings (Thursday), between the physicians of the consultation of the Institute of Myology (Dr P. Laforet, Dr A. Behin, Dr T. Stojkovic, Dr T. Evangelista, Dr G. Bassez) and the physicians of the Internal Medicine department (Dr O. Benveniste).
Metabolic diseases meetings (Friday) with the participation of  the biologists of the laboratory of Prof B.Hainque.
Although the laboratory of the Risler Pavilion is integrated within the hospital, it collaborates with other inter- and/or extra-hospital partners : the neuromuscular pathology consultation of the Babinski Building, the Raymond Escourolle Neuropathology Laboratory, the Tissue Bank for Research, the Internal Medicine department, the Cardiology department, the Immunology department, the Federation of Neurology and the CNRS and Inserm Research Units.
Last publications
Guimarães-Costa R, Similowski T, Rivals I, Morélot-Panzini C, Nierat MC, Bui MT, Akbar D, Straus C, Romero NB, Michel PP, Menegaux F, Salachas F, Gonzalez-Bermejo J, Bruneteau G; RespiStimALS team (see Appendix). Human diaphragm atrophy in amyotrophic lateral sclerosis is not predicted by routine respiratory measures. Eur Respir J. 2019 Feb 14;53(2). ////2018 Dec 5. pii: 1801749. doi: 10.1183/13993003.01749-2018
Pinto MM, Monges S, Malfatti E, Lubieniecki F, Lornage X, Alias L, Labasse C, Madelaine A, Fardeau M, Laporte J, Tizzano EF, Romero NB. Sarcomeric disorganization and nemaline bodies in muscle biopsies of patients with EXOSC3-related type 1 pontocerebellar hypoplasia Muscle Nerve. 2019 ; 59(1):137-141.
Garibaldi M., Rendu J., Brocard J., Lacene E., Fauré J. , Brochier G., Beuvin M., Labasse C., Madelaine A., Malfatti E. Bevilacqua JA., Lubieniecki F., Monges S., Taratuto AL., Laporte J., Marty I., Antonini G., Romero NB. 'Dusty core disease' (DuCD): expanding morphological spectrum of RYR1 recessive myopathies. Acta Neuropathologica Communications. 2019 Jan 5;7(1):3. doi: 10.1186/s40478-018-0655-5.
Franck A, Lainé J, Moulay G, Lemerle E, Trichet M, Gentil C, Benkhelifa-Ziyyat S, Lacène E, Bui MT, Brochier G, Guicheney P, Romero N, Bitoun M, Vassilopoulos S. Clathrin plaques and associated actin anchor intermediate filaments in skeletal muscle. Mol Biol Cell. 2019 Mar 1; 30(5):579-590. doi: 10.1091/mbc.E18-11-0718. Epub 2019 Jan 2.
Lornage X., Romero NB., Grosgogeat C.A., Malfatti E., Donkervoort S., Marchetti MM., Neuhaus SB., Reghan Foley A., Labasse C., Schneider R., Carlier RY., Chao KR., Medne L, Deleuze JF, Orlikowski D., Bönnemann CG., Gupta VA., Fardeau M., Böhm J., Laporte J. ACTN2 mutations cause "Multiple structured Core Disease" (MsCD) Acta Neuropathologica. 2019; 137(3):501-519.
Lionello VM, Nicot AS, Sartori M, Kretz C, Kessler P, Buono S, Djerroud S, Messaddeq N, Koebel P, Prokic I, Hérault Y, Romero NB, Laporte J, Cowling BS. Amphiphysin 2 modulation rescues myotubular myopathy and prevents focal adhesion defects in mice. Sci Transl Med. 2019 Mar 20;11(484). pii: eaav1866. doi: 10.1126/scitranslmed.aav1866
Olivé M, Engvall M, Ravenscroft G, Cabrera-Serrano M, Jiao H, Bortolotti CA, Pignataro M, Lambrughi M, Jiang H, Forrest ARR, Benseny-Cases N, Hofbauer S, Obinger C, Battistuzzi G, Bellei M, Borsari M, Di Rocco G, Viola HM, Hool LC, Cladera J, Lagerstedt-Robinson K, Xiang F, Wredenberg A, Miralles F, Baiges JJ, Malfatti E, Romero NB, Streichenberger N, Vial C, Claeys KG, Straathof CSM, Goris A, Freyer C, Lammens M, Bassez G, Kere J, Clemente P, Sejersen T, Udd B, Vidal N, Ferrer I, Edström L, Wedell A, Laing NG. Myoglobinopathy is an adult-onset autosomal dominant myopathy with characteristic sarcoplasmic inclusions. Nature Communication 2019 Mar 27; 10(1):1396. doi: 10.1038/s41467-019-09111-2.
Udd B, Stenzel W, Oldfors A, Olivé M, Romero N, Lammens M, Kusters B, Sewry C, Goebel HH, Evangelista T. 1st ENMC European meeting: The EURO-NMD pathology working group Recommended Standards for Muscle Pathology. Amsterdam, Thae Netherlands, 7 December 2018. Neuromuscul Disord. 2019 Jun; 29(6):483-485. doi: 10.1016/j.nmd.2019.03.002.
Svahn J, Laforêt P, Vial C, Streichenberger N, Romero N, Bouchet-Séraphin C, Bruneel A, Dupré T, Seta N, Menassa R, Michel-Calemard L, Stojkovic T. Dilated cardiomyopathy and limb-girdle muscular dystrophy-dystroglycanopathy due to novel pathogenic variants in the DPM3 gene. Neuromuscul Disord. 2019; 29(7):497-502
Berardo A, Lornage X, Johari M, Evangelista T, Cejas C, Barroso F, Dubrovsky A, Bui MT, Brochier G, Saccoliti M, Bohm J, Udd B, Laporte J, Romero NB, Taratuto AL. HNRNPDL-related muscular dystrophy: expanding the clinical, morphological and MRI phenotypes. J Neurol. 2019 ; 266(10):2524-2534
Guimarães-Costa R, Niérat MC, Rivals I, Morélot-Panzini C, Romero NB, Menegaux F, Salachas F, Gonzalez-Bermejo J, Similowski T, Bruneteau G; RespiStimALS team. Implanted Phrenic Stimulation Impairs Local Diaphragm Myofiber Reinnervation in ALS. Am J Respir Crit Care Med. 2019 Jul 10. doi: 10.1164/rccm.201903-0653LE.
Lornage X, Schartner V, Balbueno I, Biancalana V, Willis T, Echaniz-Laguna A, Scheidecker S, Quinlivan R, Fardeau M, Malfatti E, Lannes B, Sewry C, Romero NB, Laporte J, Böhm J. Clinical, histological, and genetic characterization of PYROXD1-related myopathy Acta Neuropathol Commun. 2019; 7(1):138.
Brisset M, Ben Yaou R, Carlier RY, Chanut A, Nicolas G, Romero NB, Wahbi K, Decrocq C, Leturcq F, Laforêt P, Malfatti E X-linked Emery-Dreifuss muscular dystrophy manifesting with adult onset axial weakness, camptocormia, and minimal joint contractures. Neuromuscul Disord. 2019; 29(9):678-683
González-Del Angel A, Bisciglia M, Vargas-Cañas S, Fernandez-Valverde F, Kazakova E, Escobar RE, Romero NB, Jardel C, Rucheton B, Stojkovic T, Malfatti E. Novel Phenotypes and Cardiac Involvement Associated With DNA2 Genetic Variants. Front Neurol. 2019; 10:1049. doi: 10.3389/fneur.2019.01049.
Laforêt P, Inoue M, Goillot E, Lefeuvre C, Cagin U, Streichenberger N, Leonard-Louis S, Brochier G, Madelaine A, Labasse C, Hedberg-Oldfors C, Krag T, Jauze L, Fabregue J, Labrune P, Milisenda J, Nadaj-Pakleza A, Sacconi S, Mingozzi F, Ronzitti G, Petit F, Schoser B, Oldfors A, Vissing J, Romero NB, Nishino I, Malfatti E. Deep morphological analysis of muscle biopsies from type III glycogenesis (GSDIII), debranching enzyme deficiency, revealed stereotyped vacuolar myopathy and autophagy impairment. Acta Neuropathol Commun. 2019 Oct 28;7(1):167. doi: 10.1186/s40478-019-0815-2.
de Winter JM, Molenaar JP, Yuen M, van der Pijl R, Shen S, Conijn S, van de Locht M, Willigenburg M, Bogaards SJ, van Kleef ES, Lassche S, Persson M, Rassier DE, Sztal TE, Ruparelia AA, Oorschot V, Ramm G, Hall TE, Xiong Z, Johnson CN, Li F, Kiss B, Lozano-Vidal N, Boon RA, Marabita M, Nogara L, Blaauw B, Rodenburg RJ, Kϋsters B, Doorduin J, Beggs AH, Granzier H, Campbell K, Ma W, Irving T, Malfatti E, Romero NB, Bryson-Richardson RJ, van Engelen BG, Voermans NC, Ottenheijm CA. KBTBD13 is an actin-binding protein that modulates muscle kinetics. J Clin Invest. 2019 Oct 31. pii: 124000. doi: 10.1172/JCI124000.