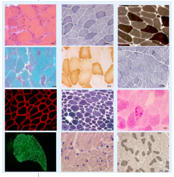 The Muscle Atlas is the first muscle image database to accelerate research, diagnosis and therapeutic approaches.
The muscle is a complex organ that can be affected by a wide range of abnormalities. It can take years to diagnose a particular neuromuscular disease, some of which affect only a subset of skeletal muscles, for no particular reason. Today, there is no database in existence that provides an exhaustive and qualified record of muscle biopsies from diseased patients or animals, both treated and untreated.
This is the reason why Bruno Cadot, a researcher from the Myology Center for Research and Dr Norma Beatriz Romero, head of the Morphological Unit at the Institute of Myologie, had the idea of creating a "Muscle Atlas", i.e. building a database from muscle biopsies analysed, for the most part, in their respective laboratories.
More than 5,000 pictures of muscle biopsies of animal and human origin, all characterised according to the disease and at different stages of the disease, have been recorded by now. This unique database will enable researchers and physicians to work faster in their research and in the diagnosis of neuromuscular diseases. This atlas will be enriched with contributions from researchers and physicians from all over the world in the coming months.
Discover the Muscle Atlas usage tutorial ⤵️
The website is being updated.