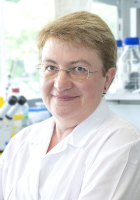 Team leader : Gisèle Bonne
The team research topics focus on 2 groups of neuromuscular disorders (NMD): myopathies due to defects of the Myomatrix [collagen type VI & ECM-related disorders (Allamand et al. 2011, Skelet Muscle); V Allamand's group] and of the Myonucleus [Emery-Dreifuss muscular dystrophies (EDMD) & other striated muscle laminopathies (SML) due to mutations of the LMNA gene encoding A-type lamins or genes encoding related nuclear envelope components (Bertrand et al. 2011, Biochem Soc Trans.; Azibani et al. 2014, Semin Cell Dev Biol); Group G Bonne/ AT Bertrand]. These myopathies with prominent contractures or 'contractural myopathies' share some clinical features, and may be differentially diagnosed.
These diseases are highly heterogeneous, both clinically and genetically, and no treatment is available yet. Our previous activities have led to the identification of genetic defects, the development of tools (cellular and animal models) and the deciphering of pathophysiological clues for a better comprehension of the molecular bases and the identification of therapeutic targets. Many unresolved issues remain: 1) absence of molecular diagnosis for a subset of patients, 2) precise function of implicated proteins and underlying pathophysiological mechanisms… Several common points (contractile dysfunction, mechanobiology defects, fibrosis…) have been and are still being addressed transversally through pooling of our specific expertise (nuclear envelop, nucleoplasm, extracellular matrix…).
The team's project revolves around 3 axes:
1) defining the genetic and clinical spectrum and the natural history of these NMDs;
2) investigating the pathophysiological mechanisms of gene mutations that induce these cardiac and/or skeletal muscle affections with the overall goal
3) to identify and test therapeutic avenues for these disorders. This is carried out on biological material from patients (DNA, RNA, cultured cells and biopsies) as well as various animal models we have developed.

Team members
MyoNucleus related diseases

A Bertrand, CR AIM
G Bonne, DR1 Inserm

 MyoMatrix related diseases

V Allamand, DR2 Inserm
Genetics & NGS

G Bonne, DR1 Inserm
V Allamand, DR2 Inserm

L Benarroch, Post-doc (CDD)
A Brull Cañagueral, Post-doc (CDD)
M Mainard, Stagiaire M2
C Gartioux, TR, AIM
A Serafin, Stagiaire M2
I Nelson, IR AIM
E Cohen, Post Doc (CDD)
Transversal Activities, G Bonne, DR1 Inserm


Clinical expertise

D Duboc, PU-PH (5%)
F Leturcq, PH, AP (10%)
C Metay, PH, AP (10 %)
T Stojkovic, PH, AP (10%)

Data bases & Registries

R Ben Yaou, PH attaché, AIM (30%)
K Chikhaoui, ARC, AIM (30%)
A Atalaia, Chercheur (CDD)

Histopathology

M Beuvin, IE, AIM
T Evangelista, PH attaché, AP/AIM (10%)
Contacts
Gisèle Bonne  (g.bonne@institut-myologie.org)
Valérie Allamand (v.allamand@institut-myologie.org)
Anne Bertrand (a.bertrand@institut-myologie.org)
Projects axes
The specific projects we develop are:
Clinical and genetic spectrum of Myomatrix and Myonucleus-related diseases: using state of the art medium to high throughput techniques (WES, WGS, RNA-seq) we pursue the identification of new genes and variants for patients orphan of molecular diagnosis in close interaction with the NMD reference center Paris-Nord/Est/Ile de France (B Eymard), the Filnemus network, the ERN Euro-NMD as well as the European consortium Solve RD (H2020 grant 2018-2022). The goal of this axis is ultimately to transfer the knowledge acquired to diagnostic procedures in reference laboratories (e.g., Cardio-& Myogenetic Functional Unit, Hospital Pitié-Salpêtrière; Biochemistry & Molecular Genetics Laboratory, Institut Cochin).
Natural history of these diseases via national and international patient registries: we further expand the patient recruitment/inclusion in national and international registries and explore in depth the natural history of our disease of interest in order to identify diagnosis and prognosis readouts and biomarkers.
Deciphering the structure & function of Myomatrix and Myonucleus in health and disease: using the different cellular and animal models available as well as novel models when needed, we aim to decipher further the structure and function of proteins currently known but also of new candidates identified through our investigations, i.e. A-type lamins and related nuclear envelope components, Collagen VI and related extracellular matrix components. In particular, signaling pathways and molecular pathomechanisms are investigated in order to identify relevant and innovative therapeutic targets.
Regarding translation and patient benefit, these different research axes allow us to identify and characterize new genes, phenotypical spectra, related pathomechanisms and therapeutic targets.
Last publications
Benarroch L, Cohen E, Atalaia A, Ben Yaou R, Bonne G, Bertrand AT. Preclinical Advances of Therapies for Laminopathies. J Clin Med. 2021 Oct 21;10(21):4834. 10.3390/jcm10214834.
Cohen E, Bonne G, Rivier F, Hamroun D. The 2022 version of the gene table of neuromuscular disorders (nuclear genome). Neuromuscul Disord. 2021 Dec;31(12):1313-1357. 10.1016/j.nmd.2021.11.004.
Schüle R, Timmann D, Erasmus CE, Reichbauer J, Wayand M; Solve-RD-DITF-RND, van de Warrenburg B, Schöls L, Wilke C, Bevot A, Zuchner S, Beltran S, Laurie S, Matalonga L, Graessner H, Synofzik M; Solve-RD Consortium (Gisèle Bonne, Teresinha Evangelista, Valérie Allamand, Isabelle Nelson, Rabah Ben Yaou, Corinne Metay, Bruno Eymard, Enzo Cohen, Antonio Atalaia, Tanya Stojkovic). Solving unsolved rare neurological diseases-a Solve-RD viewpoint. Eur J Hum Genet. 2021 Sep;29(9):1332-1336.  10.1038/s41431-021-00901-1.
Ben Yaou R*, Yun P*, Dabaj I*, Norato G*, Donkervoort S, Xiong H, Nascimento A,Maggi L, Sarkozy A, Monges S, Bertoli M, Komaki H, Mayer M, Mercuri E, Zanoteli E, Castiglioni C, Marini-Bettolo C, D'Amico A, Deconinck N, Desguerre I, Erazo-Torricelli R, Gurgel-Giannetti J, Ishiyama A, Kleinsteuber K, Lagrue E, Laugel V, Mercier S, Messina S, Politano L, Ryan M, Sabouraud P, Schara U, Siciliano G, Vercelli L, Voit T, Yoon G, Alvarez R, Muntoni F, Pierson TM, Gómez-Andrés D, Foley AR, Quijano-Roy S*, Bönnemann CG*, Bonne G*. International Retrospective Natural History Study of LMNA-related Congenital Muscular Dystrophy. Brain Commun, 2021 Apr 11;3(3):fcab075. doi.org/10.1093/braincomms/fcab075 *co first/co-last authors
Hathazi D*, Cox D*, D'Amico A, Tasca G, Charlton R, Carlier RY, Baumann J, Kollipara L, Zahedi RP, Feldmann I, Deleuze JF, Torella A, Cohn R, Robinson E, Ricci F, Jungbluth H, Fattori F, Boland A, O'Connor E, Horvath R, Barresi R, Lochmüller H, Urtizberea A, Jacquemont ML, Nelson I, Swan L, Bonne G*, Roos A*. NPP5K and SIL1 associated pathologies with overlapping clinical phenotypes converge through dysregulation of PHGDH. Brain . 2021 Sep 4;144(8):2427-2442. doi.org/10.1093/brain/awab133 *co first/co-last authors
Campana-Salort E, Bonne G, Allamand V, Andoni Urtizberea J. [2020: A year in parentheses] Med Sci (Paris). 2020 Dec;36 Hors série n° 2:5. 10.1051/medsci/2020268
Kronenberg-Tenga R, Tatli M, Eibauer M, Wu W, Shin JY, Bonne G, Worman HJ, Medalia O. J A lamin A/C variant causing striated muscle disease provides insights into filament organization. Cell Sci. 2021 Mar 22;134(6):jcs256156. doi.org/10.1242/jcs.256156
Schade van Westrum SM, Wahbi K, Bonne G, van der Kooi AJ. Hereditary Neuromuscular Diseases and Cardiac Involvement. In Clinical Cardiogenetics Editors: Baars, H.F., Doevendans, P.A.F.M., Houweling, A.C., van Tintelen, J.P. (Eds.) Chap 22, Pages 371-385.
Atalaia A, Ben Yaou R, Wahbi K, De Sandre-Giovannoli A, Vigouroux C, Bonne G. Laminopathies' Treatments Systematic Review: A Contribution Towards a 'Treatabolome' J Neuromuscul Dis. 2021;8(3):419-439. 10.3233/jnd-200596
Targeting the histone demethylase LSD1 prevents cardiomyopathy in a mouse model of laminopathy. Guénantin AC, Jebeniani I, Leschik J, Watrin E, Bonne G, Vignier N, Pucéat M. Laminopathies' Treatments Systematic Review: A Contribution Towards a 'Treatabolome'. J Clin Invest. 2021 Jan 4;131(1):e136488. 10.1172/JCI136488
Coppens S, Barnard AM, Puusepp S, Pajusalu S, Õunap K, Vargas-Franco D, Bruels CC, Donkervoort S, Pais L, Chao KR, Goodrich JK, England EM, Weisburd B, Ganesh VS, Gudmundsson S, O'Donnell-Luria A, Nigul M, Ilves P, Mohassel P, Siddique T, Milone M, Nicolau S, Maroofian R, Houlden H, Hanna MG, Quinlivan R, Toosi MB, Karimiani EG, Costagliola S, Deconinck N, Kadhim H, Macke E, Lanpher BC, Klee EW, Łusakowska A, Kostera-Pruszczyk A, Hahn A, Schrank B, Nishino I, Ogasawara M, El Sherif R, Stojkovic T, Nelson I, Bonne G, Cohen E, Boland-Augé A, Deleuze JF, Meng Y, Töpf A, Vilain C, Pacak CA, Rivera-Zengotita ML, Bönnemann CG, Straub V, Handford PA, Draper I, Walter GA, Kang PB. A form of muscular dystrophy associated with pathogenic variants in JAG2. Am J Hum Genet. 2021 Jun 3;108(6):1164. doi: 10.1016/j.ajhg.2021.03.020
Torelli S, Scaglioni D, Sardone V, Ellis MJ, Domingos J, Jones A, Feng L, Chambers D, Eastwood DM, Leturcq F, Ben Yaou R, Urtizberea A, Sabouraud P, Barnerias C, Stojkovic T, Ricci E, Beuvin M, Bonne G, Sewry CA, Willis T, Kulshrestha R, Tasca G, Phadke R, Morgan JE, Muntoni F. High-Throughput Digital Image Analysis Reveals Distinct Patterns of Dystrophin Expression in Dystrophinopathy Patients. J Neuropathol Exp Neurol. 2021 Oct 26;80(10):955-965. doi: 10.1093/jnen/nlab088. PMID: 34498054; PMCID: PMC8557329.
Matalonga L, Hernández-Ferrer C, Piscia D; Solve-RD SNV-indel working group, Schüle R, Synofzik M, Töpf A, Vissers LELM, de Voer R; Solve-RD DITF-GENTURIS; Solve-RD DITF-ITHACA; Solve-RD DITF-euroNMD; Solve-RD DITF-RND, Tonda R, Laurie S, Fernandez-Callejo M, Picó D, Garcia-Linares C, Papakonstantinou A, Corvó A, Joshi R, Diez H, Gut I, Hoischen A, Graessner H, Beltran S; Solve-RD Consortia. (G Bonne, T Evangelista, V Allamand, I Nelson, R Ben Yaou, C Metay , B Eymard, E Cohen, A Atalaia, T Stojkovic). Solving patients with rare diseases through programmatic reanalysis of genome-phenome data. Eur J Hum Genet. 2021 Sep;29(9):1337-1347. 10.1038/s41431-021-00852-7
Töpf, A., Pyle, A., Griffin, H. et al (and Solve-RD consortium (G Bonne, I Nelson, E Cohen)). Exome reanalysis and proteomic profiling identified TRIP4 as a novel cause of cerebellar hypoplasia and spinal muscular atrophy (PCH1). Eur J Hum Genet . 2021 Sep;29(9):1348-1353. 10.1038/s41431-021-00851-8
Zurek B, Ellwanger K, Visser LELM, Schüle R, Synofzik M, Töpf A, de Voer RM, Laurie S, Matalonga L, Gilissen C Ossowski S,'t Hoen PAC, Vitobello A, Schulze-Hentrich, Riess O, Brunner HG, Anthony J. Brookes AJ, Rath A, Bonne G, Gumus G, Verloes A, Hoogerbrugge N, Evangelista T, Harmuth T, Swertz M, Spalding D, Hoischen A, Beltran S, Graessner H and Solve-RD consortium* (G Bonne, T Evangelista, V Allamand, I Nelson, R Ben Yaou, C Metay, B Eymard, E Cohen, A Atalaia, T Stojkovic). Solve-RD: systematic pan-European data sharing and collaborative analysis to 3 solve rare diseases. Eur J Hum Genet. 2021 Sep;29(9):1325-1331. doi.org/10.1038/s41431-021-00859-0
Meertens L, Hafirassou ML, Couderc T, Bonnet-Madin L, Kril V, Kümmerer BM, Labeau A, Brugier A, Simon-Loriere E, Burlaud-Gaillard J, Doyen C, Pezzi L, Goupil T, Rafasse S, Vidalain PO, Legout AB, Gueneau L, Juntas-Morales R, Ben Yaou R, Bonne G, de Lamballerie X, Benkirane M, Roingeard P, Delaugerre C, Lecuit M, Amara A. FHL1 is a key player of chikungunya virus tropism and pathogenesis. C R Biol. 2021 Apr 21;343(4):79-89. 10.5802/crbiol.40.
Vignier N, Chatzifrangkeskou M, Pinton L, Wioland H, Marais T, Lemaitre M, Le Dour C, Peccate C, Cardoso D, Schmitt A, Wu W, Biferi MG, Naouar N, Macquart C, Beuvin M, Decostre V, Bonne G, Romet-Lemonne G, Worman HJ, Tedesco FS, Jégou A, Muchir A. The non-muscle ADF/cofilin-1 controls sarcomeric actin filament integrity and force production in striated muscle laminopathies.  Cell Rep. 2021 Aug 24;36(8):109601. 10.1016/j.celrep.2021.109601.
Bonne G. The Treatabolome, an emerging concept. J Neuromuscul Dis. 2021;8(3):337-339. doi: 10.3233/JND-219003.
Foy M, De Mazancourt P, Métay C, Carlier R, Allamand V, Gartioux C, Gillas F, Miri N, Jobic V, Mekki A, Richard P, Michot C, Benistan K. A novel COL1A1 variant in a family with clinical features of hypermobile Ehlers-Danlos syndrome that proved to be a COL1-related overlap disorder. Clin Case Rep. 2021 Jun 26;9(9):e04128. doi: 10.1002/ccr3.4128.
Villar-Quiles RN, Donkervoort S, de Becdelièvre A, Gartioux C, Jobic V, Foley AR, McCarty RM, Hu Y, Menassa R, Michel L, Gousse G, Lacour A, Petiot P, Streichenberger N, Choumert A, Declerck L, Urtizberea JA, Sole G, Furby A, Cérino M, Krahn M, Campana-Salort E, Ferreiro A, Eymard B, Bönnemann CG, Bharucha-Goebel D, Sumner CJ, Connolly AM, Richard P, Allamand V, Métay C, Stojkovic T. Clinical and Molecular Spectrum Associated with COL6A3 c.7447A>G p.(Lys2483Glu) Variant: Elucidating its Role in Collagen VI-related Myopathies. J Neuromuscul Dis. 2021;8(4):633-645. 10.3233/JND-200577.
Bardakov SN, Deev RV, Magomedova RM, Umakhanova ZR, Allamand V, Gartioux C, Zulfugarov KZ, Akhmedova PG, Tsargush VA, Titova AA, Mavlikeev MO, Zorin VL, Chernets EN, Dalgatov GD, Konovalov FA, Isaev AA. Intrafamilial Phenotypic Variability of Collagen VI-Related Myopathy Due to a New Mutation in the COL6A1 Gene. J Neuromuscul Dis. 2021;8(2):273-285. 10.3233/JND-200476.
Bertrand, AT, Brull, A, Azibani, F, Benarroch, L, Chikhaoui, K, Stewart, CL et al.. Lamin A/C Assembly Defects in LMNA-Congenital Muscular Dystrophy Is Responsible for the Increased Severity of the Disease Compared with Emery-Dreifuss Muscular Dystrophy. Cells. 2020;9 (4):. doi: 10.3390/cells9040844.
Harandi, VM, Oliveira, BMS, Allamand, V, Friberg, A, Fontes-Oliveira, CC, Durbeej, M et al.. Antioxidants Reduce Muscular Dystrophy in the dy2J/dy2J Mouse Model of Laminin α2 Chain-Deficient Muscular Dystrophy. Antioxidants (Basel). 2020;9 (3):. doi: 10.3390/antiox9030244.
Benarroch, L, Bonne, G, Rivier, F, Hamroun, D. The 2020 version of the gene table of neuromuscular disorders (nuclear genome). Neuromuscul Disord. 2019;29 (12):980-1018. doi: 10.1016/j.nmd.2019.10.010.
Piekarowicz, K, Bertrand, AT, Azibani, F, Beuvin, M, Julien, L, Machowska, M et al.. A Muscle Hybrid Promoter as a Novel Tool for Gene Therapy. Mol Ther Methods Clin Dev. 2019;15 :157-169. doi: 10.1016/j.omtm.2019.09.001.
Wahbi, K, Ben Yaou, R, Gandjbakhch, E, Anselme, F, Gossios, T, Lakdawala, NK et al.. Development and Validation of a New Risk Prediction Score for Life-Threatening Ventricular Tachyarrhythmias in Laminopathies. Circulation. 2019;140 (4):293-302. doi: 10.1161/CIRCULATIONAHA.118.039410.
De Ridder, W, Nelson, I, Asselbergh, B, De Paepe, B, Beuvin, M, Ben Yaou, R et al.. Muscular dystrophy with arrhythmia caused by loss-of-function mutations in BVES. Neurol Genet. 2019;5 (2):e321. doi: 10.1212/NXG.0000000000000321.
Thompson, R, Bonne, G, Missier, P, Lochmüller, H. Targeted therapies for congenital myasthenic syndromes: systematic review and steps towards a treatabolome. Emerg Top Life Sci. 2019;3 (1):19-37. doi: 10.1042/ETLS20180100.
Bolduc, V, Foley, AR, Solomon-Degefa, H, Sarathy, A, Donkervoort, S, Hu, Y et al.. A recurrent COL6A1 pseudoexon insertion causes muscular dystrophy and is effectively targeted by splice-correction therapies. JCI Insight. 2019;4 (6):. doi: 10.1172/jci.insight.124403.
Rodriguez, BM, Khouzami, L, Decostre, V, Varnous, S, Pekovic-Vaughan, V, Hutchison, CJ et al.. N-acetyl cysteine alleviates oxidative stress and protects mice from dilated cardiomyopathy caused by mutations in nuclear A-type lamins gene. Hum Mol Genet. 2018;27 (19):3353-3360. doi: 10.1093/hmg/ddy243.
Azibani, F, Brull, A, Arandel, L, Beuvin, M, Nelson, I, Jollet, A et al.. Gene Therapy via Trans-Splicing for LMNA-Related Congenital Muscular Dystrophy. Mol Ther Nucleic Acids. 2018;10 :376-386. doi: 10.1016/j.omtn.2017.12.012.
and
http://www.ncbi.nlm.nih.gov/pubmed/?term=Bonne+G
http://www.ncbi.nlm.nih.gov/pubmed/?term=Allamand+V
http://www.ncbi.nlm.nih.gov/pubmed/?term=Bertrand+AT
http://www.ncbi.nlm.nih.gov/pubmed/?term=Nelson+I