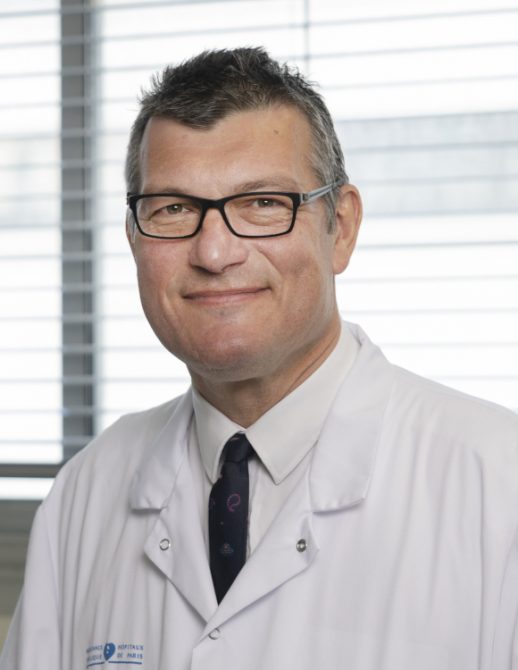 Head: Prof. Bertrand Fontaine

Founded in 1996 by the AFM, MYOBANK-AFM is a non-profit service that manages the collection, preparation, storage and distribution of human tissue samples. To help researchers and advance knowledge, the AFM-TELETHON has created a research tissue bank – the Institute of Myology's MYOBANK-AFM. This biological resource centre (medico-scientific expertise centre dedicated to muscle) is intended for the exclusive use of research with respect for fundamental human rights.
MYOBANK-AFM aims to facilitate research in the field of neuromuscular diseases, thanks to its mission to collect, prepare, store and provide tissue samples (remaining or extra tissue that has been removed during a medical procedure) of patients  affected by these diseases. Its operation and its objectives meet the requirements of Biological Resource Centres and are in compliance with current legislation.
MYOBANK-AFM is installed within the Common Platform of Biological Resources situated at the Pitié-Salpêtrière Hospital site, as part of a partnership between patient organizations and the Assistance Publique – Hôpitaux de Paris (Public Assistance – Paris Hospitals).
The tissue samples are mainly from people with neuromuscular or rare diseases but also from healthy subjects in order to provide 'control' tissue samples. This biological material is intended for in vitro studies that complement the information gained from animal models before clinical exploration in vivo.
The service is available on request to all research teams in France and abroad.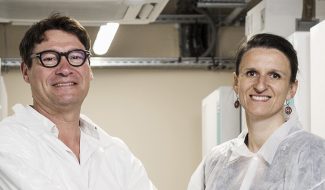 Team members
Prof. Bertrand Fontaine, PU-PH, Sorbonne University, AP-HP, Head of MYOBANK-AFM
Stéphane VASSEUR, Coordinator Quality manager
Maud CHAPART-LECLERT, Research assistant
Contact MYOBANK-AFM
+ 33 6 60 32 08 36
+ 33 1 42 17 75 06
+ 33 1 42 17 74 63
myobank-afm@institut-myologie.org
Download the request for biological resources or services form (V05 – PDF – 5 pages – 137 ko)

Download the MYOBANK-AFM charter (V12 – PDF – 12 pages – 209 ko)

AFNOR Certification

MYOBANK-AFM received the AFAQ evaluation from the Biological Resources Centre for the next three years. The management system set up by the Institute of Myology for the collection, reception, preparation, storage and provision of biological resources was found to meet the requirements of the NF S 96-900 standard.
MYOBANK-AFM's authorisations
Authorisation to store and prepare human tissue for scientific use: MYOBANK-AFM tissue bank has obtained this authorisation in September 2014 for 5 years by the Ministry of Higher Education and Research after approval by the Pitié-Salpêtrière Hospital's protection of person's committee.
Authorisation to import and export human tissue: because MYOBANK-AFM is involved in international networks, it obtained authorisation from the Ministry of Health in 1997 to import and export human tissues and cells for scientific purpose. This 5 year renewal period was authorised in 2002, 2008 and 2013.
Authorisation of automated file management: to ensure perfect sample traceability and management of collaborations, MYOBANK-AFM has developed a programme specific to the activities of a biological resource centre. Use of this software was authorised after a positive opinion from the National Commission for Data Protection and Liberties (CNIL-France), particularly for the management of donor consent.
Collaborations
MYOBANK-AFM is one of the poles of the Institute of Myology Association, an interactive platform between the clinic and research.
MYOBANK-AFM is affiliated with the Biological Resources Platform of the Pitié-Salpêtrière Hospital and therefore works closely with hospital services of l'Assistance Publique-Hôpitaux de Paris (Public Assistance – Paris Hospitals).
MYOBANK-AFM is a member of the European network of biological material, Eurobiobank, which now has 25 members, including 22 banks in 9 European countries and in Israel and Canada.
MYOBANK-AFM is a member of the European network for biological materials, Eurobiobanks, which now has 25 members, including 22 banks in 9 European countries, as well as Israel and Canada.
MYOBANK-AFM is part of the national Biobanks network, an infrastructure dedicated to biomedical research. BIOBANKS unites over 80 Biological Resource Centres (BRCs), composed of biobanks, tumour banks and microbiological resource centres (mBRCs), distributed throughout France, generally within large hospitals.
Itinerary of a tissue sample
The request
The request is analysed then validated by MYOBANK-AFM's Scientific Committee.
The role of MYOBANK-AFM is to provide, as soon as possible, the samples requested by researchers. If it does not have the sample in stock, it relies on its network of collaborations with physicians to collect them.
Tissue sampling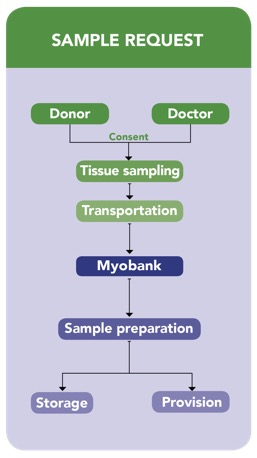 The sampling of human tissues or cells is carried out by doctors.
The following are collected:
Remaining or extra tissue that has been removed during a medical procedure, after patient consent
Tissue samples carried out as part of a defined clinical research protocol, in conformity with France's Huriet law
Extra tissue that has been removed during a diagnostic biopsy
Preparation
The sample is conditioned depending on its anticipated use, so as to maintain the inherent qualities of the tissue.
The different types of preparation carried out on the premises MYOBANK-AFM allow:
Cell cultures
Biochemical studies
Studies requiring conservation of the morphology
The traceability and transmission of information concerning the sampling process or the sample itself are provided by the GBC database©.
Storage or transportation
If a researcher does not request a tissue sample, it is stored on the premises of MYOBANK-AFM. Myobank-AFM can also, at the request of researchers, store and reserve samples for them. The choice of transportation mode is made according to safety criteria and with respect to preserving conditions.
Our activities and commitments
Processing of requests
MYOBANK-AFM reviews the requests to ensure that the project complies with the principles applicable to the collection and use of human tissues. The medical and scientific director of the Institute of Myology Association validates it. The themes supported by the AFM (neuromuscular and rare diseases) have priority.
MYOBANK-AFM guarantees researchers:
Scientific neutrality: MYOBANK-AFM does not scientifically evaluate projects
Unbiased provision of MYOBANK-AFM's services
Collection
MYOBANK-AFM organises the collection of human tissues.
It ensures donors:
Maintenance of anonymity
Respect of their wishes
Proper consents are given according to the legislation
It ensures partner practitioners:
Respect of medical activity
Return of scientific results after publication
Preparation, storage and transportation
MYOBANK-AFM is responsible for the preparation, storage and transportation of tissue samples by ensuring:
Compliance with the rules of good laboratory practice (GLP)
Compliance with validated protocols and quality methodology
Sample traceability
MYOBANK-AFM guarantees researchers:
Sample conditioning on demand
Secure shipping of samples
Make a tissue donation
We need you
Is your child or are you suffering from a neuromuscular disease and you have a planned medical procedure? You can help advance research concerning your disease by allowing us to collect, via your surgeon, tissues considered "surgical remains or extras", that are normally incinerated during an operation. With this donation, MYOBANK-AFM will provide research teams with tissue samples purely for scientific use.
It is very simple to participate
Contact us 72 hours before your medical procedure.
MYOBANK-AFM will then contact your doctor and take care of all necessary steps to ensure that the collection can proceed successfully.
Without your involvement and your consent, we cannot collect tissue samples. We are relying on you to help us advance research.
Contact MYOBANK-AFM
+33 6 60 32 08 36
+33 1 42 17 74 63
+33 1 42 17 75 06