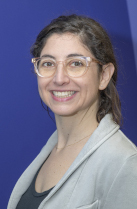 Simone Birnbaum, a researcher at the Neuromuscular Physiology and Evaluation Laboratory directed by Jean-Yves Hogrel (NIC, Institute of Myology) has just published an article assessing neuromuscular fatigue in persons with Myasthenia gravis in the journal Clinical Neurophysiology. Interview with Simone Birnbaum.
What was the aim of the study?
Myasthenia gravis (MG) is a rare disease characterized by fluctuating muscle weakness and fatigability of varying intensity and duration, which may affect any voluntary muscle.
In this cross-sectional study, the aim was first to investigate the presence of increased neuromuscular fatigue (NMF) in people with MG, compared to healthy controls. We also aimed to assess the associations between NMF, strength and perceived health-related quality of life (HRQoL), and the severity of symptoms related to MG in these patients.
How did you go about this and what results did you get?
We included 41 women with MG and 18 control women of the same age who were assessed for both FNM using conventional myoelectric indicators during a sustained submaximal isometric contraction of two muscle groups, post-exertional decline in maximal strength after a strenuous task, and relationships with MG-specific clinical scores. Our results show that individuals with MG show a reduction in strength in both muscle groups compared to control subjects and do not show greater FNM, either on the basis of these myoelectric indicators or on the basis of post-exertional strength decline.
What conclusions can you draw?
We conclude that in this specific experimental setting within this cohort of women with mild to moderately severe, well-controlled and stable MG, people with MG do not show greater FNM despite having demonstrated muscle weakness. Further studies will be needed to confirm these results, particularly to identify simple and reliable methods of measuring FNM in MG and to understand the relationship between FNM and perceived fatigue in activities of daily living by people with MG.
Birnbaum S, Sharshar T, Ropers J, Portero P, Hogrel JY. Neuromuscular fatigue in autoimmune myasthenia gravis: A cross-sectional study. Neurophysiol Clin. 2023 Feb 22;53(4):102844. doi: 10.1016/j.neucli.2023.102844. Epub ahead of print. PMID: 36827843.