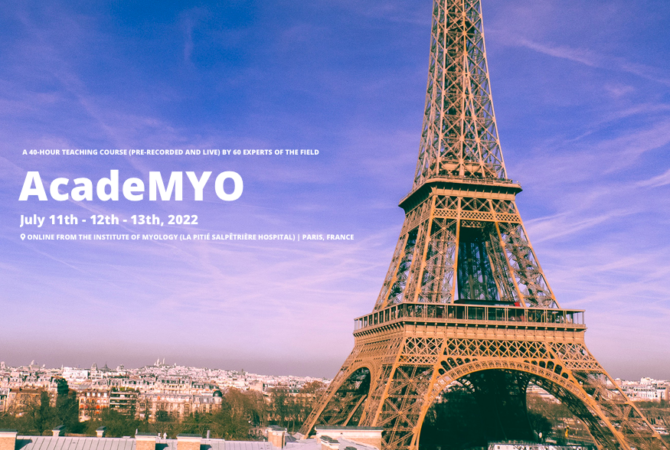 Andoni Urtizberea reports on the 2022 session of AcadeMYO, the fully virtual version of the Institute's Myology Summer School, which was held from 11 to 13 July.
What was the profile of the students who participated this year?
We had 44 registered participants from 27 countries: Chile, Argentina, Brazil, Colombia, Russia, Latvia, USA, Canada, Australia, Kuwait, France, Denmark, Italy, Portugal, Netherlands, Spain, Czech Republic, Slovenia, UK, Romania, Sweden, India, Thailand, Malaysia, Singapore, Ivory Coast and Senegal. Most of them were neurologists, paediatricians and pathologists. In addition to these 44 students, for the first time, 18 staff members of the Institute of Myology (researchers, clinicians, technicians) were given free access to the platform. There was no representative from the pharmaceutical industry this year, unlike last year. In a more general way, we undoubtedly suffered from the competition with the ICNMD congress in Brussels, which took place the week before AcadeMYO, and from the late date of our educational event (11-13 July)… On the other hand, AcadeMYO continues to attract a loyal clientele; 14 participants who have already registered for 2021 have followed our teaching this year
Has the course programme evolved?
In line with our objectives, we have posted 20 new registered courses on the platform's website. They are in addition to the 40 already online since July 2021.  About 10 new lecturers have joined last year's teaching team, both for the live sessions and for the pre-recorded courses. For the first time we included a live course on the voice and the role of patients (François Lamy from AFM-Telethon was the speaker).
Until when are the courses and the replays of the lives available on the platform?
In order to give participants time to watch or rewatch the 40 + 20 recorded courses and the 3 x 4 hours of live sessions that are now available in replay, we are providing access to the content until mid-September, when a satisfaction survey will take place to help us identify the positive points and the points to improve.
We are already actively preparing the next edition of AcadeMYO.
Further details on AcadeMYO

Access AcadeMYO website