Several members of the NMR Laboratory presented the team's work at the annual ISMRM (International Society for Magnetic Resonance in Medicine) conference, held in Toronto from June 3 to 8, 2023.
Communications
Eléonore Vermeulen : Quantification of muscle fat fraction and water T2 via RF phase-modulated 3D gradient-echo imaging
Constantin Slioussarenko : A steady-state MRF sequence optimization framework for 3D simultaneous water T1 and fat fraction mapping
Constantin Slioussarenko : Iterative denoising of undersampled 3D MRF with exact line search and spatial regularization
Alfredo Lopez : Multi-parametric ageing study on 51 subjects in the lower leg by 1H water T1 MR fingerprinting, multi-compartment water T2, fat fraction and 31P MRS
Alfredo Lopez : Evaluating age-related changes of vascular function and oxidative energy metabolism in the lower leg during a plantar flexion exercise
Benjamin Marty : Longitudinal evaluation of the skeletal muscles of patients with Myotonic Dystrophy type 1 treated by metformin, using quantitative 1H and 23Na MRI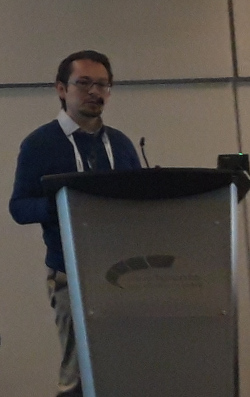 Awards
Eléonore Vermeulen's presentation and Alfredo Lopez's first presentation were selected among the top 100 (out of 5400) by the conference program committee.
Eléonore Vermeulen was awarded 2nd prize in the category « Technical developments – Musculoskeletal ».
Access the program of the conference