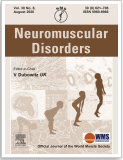 Eteplirsen (EXONDYS51®) is the first antisense oligonucleotide to be marketed, by Sarepta Therapeutics, in Duchenne muscular dystrophy, targeting the exon 51 skipping of the DMD gene.
Efficacy data for eteplirsen, from the phase III PROMOVI trial, have just been published in the Journal of Neuromuscular Disorders.
Better maintained walking and resistant breathing
In this open-label trial, 78 boys aged 7 to 16 years, able to walk between 300 and 450 metres in 6 minute at the start of the trial, and eligible for exon 51 skipping, were treated with 30 mg/kg/week of eteplirsen.
After 2 years of treatment, walking ability and respiratory function were compared, between the cohort of treated patients and an external control cohort of 15 untreated boys who were not eligible for exon 51 skipping and with the same initial walking abilities (CINRG DNHS natural history study). The results show:
a less marked decrease in distance walked in 6 minutes among the patients treated for 2 years, compared to the "control" group (68.9 metre versus 133.8 metre decrease);
maintained respiratory function, with forced vital capacity twice as high in treated patients;
nevertheless, motor decline observed in treated patients, with 17.9% of treated patients losing the ability to walk over the 2-year treatment period, and 46% of treated patients no longer able to rise from the floor alone, versus only 13.4% at the beginning of the trial.
These results are similar to those obtained in two other trials for eteplirsen. These results should be weighed up, since the trial does not have a "placebo" group, but instead, an "external control" group of patients not eligible for exon 51 skipping.
Open-Label Evaluation of Eteplirsen in Patients with Duchenne Muscular Dystrophy Amenable to Exon 51 Skipping: PROMOVI Trial. McDonald CM, Shieh PB, Abdel-Hamid HZ et al. J Neuromuscul Dis. 2021 Jun 8.