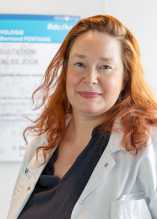 Interview with Isabelle Coupa, Nursing Manager at the Institute of Myology's Service of Neuro-Myology.
If I could ask you who you are and what your mission is?
I am Isabelle Coupa, Nursing Manager at the Institute of Myology's Service of Neuro-Myology. I hold a University Degree in Nursing and I have worked for a number of years in different departments at the hospital (Paediatric Cancer, Child and Adult Psychiatry, Geriatrics, etc.). I then decided to study for the qualification of Nursing Manager. I obtained a Masters degree in Health Systems Management in July 2010 and joined the Service of Neuro-Myology, headed by Prof. Bertrand Fontaine, in September 2019.
How has your daily life been since the beginning of the epidemic? What organisational measures have you put in place for consultations at the Service of Neuro-Myology in order to respond to the health crisis?
At the very beginning of the epidemic, we came together collectively in the Service of Neuro-Myology to reflect on how to put in place new organisational measures based particularly on tele-consultations, in order to space out patient consultations and to allow us to apply the recommended social distancing measures. Our first goal was to protect patients, particularly those at risk of cardio-respiratory problems.
Regarding the consultations, we followed, to the letter, the recommendations made by the crisis units set by hospitals and the Greater Paris hospital trust (APHP), i.e. to stop scheduling, as much as possible, meetings with patients except in urgent cases requiring care that could not be delayed.
For the outpatient department, we favoured patients attending only if strictly necessary, for example those undergoing treatment, restricting visits to Mondays and Tuesdays only.
From 11 May onwards, with the gradual easing of the lockdown announced by the government, we reflected again on the patient pathway and care, in order to continue to comply with the restrictive measures and to protect patients as much as possible.
We continued to favour tele-consultations, and started gradually rescheduling the most urgent patients in order to provide them with cardio-respiratory follow-up and to see them in the outpatient department on Mondays and Tuesdays. By seeing a maximum of only 4 patients per day, it was possible for us to comply with the social distancing measures and to allow patients to be seen in individual rooms that had been made completely safe from a sanitary viewpoint, thus allowing us very gradually to resume face-to-face activities.
A strict protocol has been put in place for patients attending consultations. Beforehand, practitioners must communicate a list of patients that they wish to see, patients who are physically frail, whose state of health is deteriorating or who require a more technically advanced consultation (for example ECG, blood test, electromyogram, etc.). When they arrive, the patients are greeted by an auxiliary nurse, who measures their vital signs, asks them to complete a health questionnaire to ensure they are not "at risk", and leads them to a waiting room, providing them with a mask and alcohol-based hand sanitiser while they wait to be seen by a doctor.
The doctors, who take turns throughout the week, receive only 1 patient per hour, in order to take into account the time that is required (and essential) to clean and disinfect between each consultation in accordance with the hospital's health guidelines and recommendations (disinfection by biocleaning of each consultation booth, the equipment, the furniture and surfaces, and regular ventilation of the rooms).
How are you experiencing this situation with the nursing team?
The entire team has been extremely responsive, flexible and willing to work in close collaboration, especially with the cleaning teams.
At the hospital, we are used to managing difficult situations and following a variety of different protocols; this is part of our work as nurses and managers.
I would also like to stress that we have not had any disruption in the supply of masks or alcohol-based hand sanitisers at the Pitié-Salpêtrière Hospital site.
What difficulties, if any, are you encountering? What is the impact of the situation on you and your colleagues?
The difficulty exists more at the level of the patients, who are sometimes fearful of coming to the site to be treated, especially when they are at very high risk of respiratory problems for example, because they are fearful of being contaminated as a result of coming to the hospital. It is up to us, the nursing teams, to reassure them and to make sure they understand the "benefit versus risk" to them.
We also have to manage the constraints of patients coming from outside Paris, for whom travelling is no longer possible. However, thanks to the national health network, we have been able to stay in contact with their local treating physicians, which allows us to maintain a remote link to them.
We are also very much helped by the department's team of psychologists, led by Prof. Marcela Gargiulo, who are all working tirelessly, listening to patients, reassuring them and assisting them, and preparing them for their follow-up consultation.
What message would you like to convey?
I would especially like to convey a message to the patients, that their health is our priority and that we are listening to them everyday: the Service of Neuro-Myology is open and contactable Monday to Friday from 9:30 AM to 5 PM, excluding public holidays.
We have always done everything that is necessary to greet our patients under the best conditions possible and in complete compliance with health rules and constraints.
Therefore, they have nothing to worry about, since we are even more attentive to them in the context of the current epidemic.
Personally, I believe that this crisis has helped to strengthen the ties between the nursing and medical teams and the patients. And I am optimistic that this is also changing the way society views these teams.