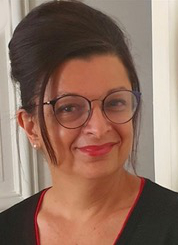 Interview with Prof. Marcela Gargiulo, psychologist and leader of the team of psychologists at the Service of Neuro-Myology, headed by Prof. Bertrand Fontaine.
If I could ask you who you are and what your mission is?
I am a clinical psychologist and I have been working at the Institute of Myology since it was created in 1996. I undertake consultations, research and teaching in the area of neuromuscular diseases.
How has your daily life been since the start of the epidemic and what organisational measures have you put in place for consultations in order to respond to the COVID-19 health crisis?
Our team of five psychologists*, in synergy with the doctors at the Institute of Myology, has implemented new remote consultation measures.
A number of patients have approached us unprompted during this period, and others have been referred to us by the consultation doctors due to their psychological state. We have also continued, for the entire duration of the lockdown, our monthly "group therapy" or "support group" activities using the ZOOM videoconferencing system.
We have also had to manage exceptional situations, organise patient/psychologist/doctor tele-consultations, offer the involvement of several psychologists within a same family for individualised support, have psychiatrists attend home visits and even contact the emergency services in crisis situations.
We have therefore reassured, supported or redirected patients or their families according to the situation faced, with each situation being so unique. All this has been done in conjunction with Regional Services, Health Pathway Representatives, and local psychologists and medical teams.
Furthermore, our entire team is involved in the COVID-19 psychological counselling unit, which was put in place by the Medical Affairs Department of AFM-Téléthon. So, we are called on to contact patients seeking psychological help via the Health Pathway Representatives or the Family Mobilisation Department of AFM-Téléthon. Every day, we receive a list of patients who need to be called and each one of us registers ourself as being willing to communicate with a particular family.
The situations we encounter are very diverse: patient isolation due to a lack of care assistants, fear of contagion, resurgence of family conflicts pre-dating the health crisis that have escalated due to the lockdown, etc.
However, I would also like to stress that we have positive feedback regarding solidarity within families, between neighbours and between friends, who phone each other or offer to do some shopping, etc. We are also seeing a counterintuitive phenomenon emerging: some patients are finding that the lockdown has put them on the same footing as the rest of the family. This gives them the impression that others are better able to understand all the limitations that neuromuscular disease imposes on individuals in their daily lives. For example, a female patient told me that: "Now, we are all equal and my family and friends better understand what I experience on a daily basis". This results in them and their disease being viewed in a different light, with a certain degree of empathy.
How are you experiencing this situation?
I would say that we are not all equal in terms of the lockdown experience. Living conditions, the presence of children requiring supervision, the overlapping of private, professional and educational spaces, etc., all this has required a significant ability to adapt. We have all had to go through a stage of adapting to our new living environment and gradually finding a form of "normality" in what we are experiencing.
Remote working can make anyone experience a feeling of guilt of sorts about not being one of those who is in contact with COVID-19 patients every day, risking becoming contaminated themselves and contaminating their loved ones.
And yet, we all have a role in what is unfolding, and each one of us bears a share of responsibility. Nonetheless, we must not neglect the invisible aspects of what we are currently experiencing, i.e. our emotions: suffering, pleasure, bitterness, anger, disappointment, fear of failure, anxiety, feelings of guilt and shame. Christophe Desjours, a specialist occupational psychology professor, has expressed it very well: "Working is not only a process of 'production', it requires us in a sense to transform ourselves. This is what the COVID-19 experience that we are all living through is imposing on us."
What difficulties if any are you encountering and what is the impact of the situation on you and your colleagues?
Paradoxically, lockdown can lead us to work too much. I find that the major difficulty for my colleagues and I is regulating excess.
Indeed, the health crisis has increased the demand for psychological care and we also have to face new challenges: anxiety and fear, of contagion and of a lack of care or treatment.
The health crisis is clearly accentuating pre-existing (latent) psychological factors in a number of patients. Our role as psychologists is clearly "multi-focussed". We have to reassure and relieve sometimes irrational fears, analyse in order to separate what is real from what is fantasy, and rationalise.
We must be able to adapt continuously and take into account the uniqueness of each patient, and for some of these patients, the difficulties relating to isolation, to a significant dependency on others. Some of our patients, among those that are elderly and dependent, are finding themselves even more alone through fear of contamination by their care assistant or caregiver. With the issue of shortages of masks at the beginning of the crisis, this even contributed on occasion to feeding fear in patients, who no longer wished to be visited.
With the gradual resumption of activity and the reopening of face-to-face consultations, fear of contagion could persist among a significant number of patients. Some remain very concerned by the situation. The information conveyed by the media (number of deaths and resuscitation cases, etc.) has had a very significant impact and has often raised the level of anxiety felt by patients (sleep disorders, anxiety, gloomy thoughts, etc.).
We are working very hard to inform patients and we are doing as much as we can to reassure them, particularly regarding their safety when visiting the hospital for a consultation.
What message would you like to convey?
To patients, I would like to say that the entire medical and care team at the Department of Neuromyology has always been committed to providing them with the best support possible and their follow-up has always been our priority, even when this is conducted remotely.
To the teams of doctors, I salute the remarkable work that has been done with patients. They have known how to, and have been able to maintain a very high quality of care in following up the patients, even when this has been done remotely. And now, every thought has been given to receiving patients under very strict sanitary conditions, in order to protect their health. The well-being of these patients is essential and is a very high priority to us.
Finally, speaking personally, I think we will all have to recover collectively from this experience, and what the aftermath will be remains uncertain. While continuing to live in the present moment, we must prepare for the future and for a profound change in society, in work and in interpersonal relations. And, as with other experiences that humanity has lived through, I am sure that we will all emerge transformed from this experience.
As Albert Camus said in The Plague: "In the end, the inhabitants will never forget this difficult ordeal, which forced them to confront the absurdity of their existence and the fragility of the human condition".
* Team of five psychologists from the Institute of Mylogy : Nathalie Angeard, Bettina Beaujard, Marcela Gargiulo, Ariane Herson, Sabrina Sayah