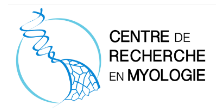 We are looking to appoint a motivated research assistant to join our team in the Unit U974 at the Institut de Myologie in Paris.
Our team is working on the molecular and cellular actors involved in human muscle regeneration, in muscle ageing and in muscular dystrophies including oculopharyngeal muscular dystrophy (OPMD) and Duchenne muscular dystrophy (DMD). More precisely we are working on RNA metabolism, muscle regeneration, muscle stem cells, cell-to-cell communication and fibrosis, with the final aim of developing innovative therapeutic approaches. Within the team, the research assistant will be in charge of molecular biology techniques (cloning, bacterial transformation, ligation, enzymatic digestion, PCR, mutagenesis) for our various projects. The selected candidate should have excellent skills in molecular biology and molecular cloning. Experience in muscle biology, cell culture, transfection, transduction, RNAi/shRNA gene expression knockdown, lentivirus vector gene transfer would be an advantage.
The position is available from January 2020, initially for 12 months with potential for further extension.
Candidate should send their CV and motivation letter to capucine.trollet@upmc.fr.
More informations on our team 'Cell and Molecular Orchestration in Muscle Regeneration, Ageing and Diseases'