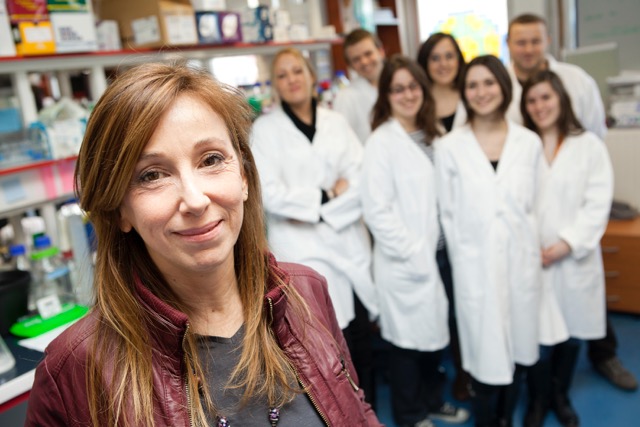 In March 2018, Genethon and AveXis concluded an agreement on the patent exploitation filed in 2007 by Martine Barkats concerning her work at Genethon since 2004 (1). Martine Barkats joined the Institute of Myology in 2010. Since then, she and her team have continued their research to develop innovative therapies for motor neuron diseases.
From proof of concept to clinical trials
Spinal Muscular Atrophy (SMA) is a disease linked to a genetic defect in the SMN1 gene that encodes the Survival of Motor Neuron (SMN) protein. The cell body of these neurons is located in the spinal cord of the central nervous system (CNS) and their nerve extensions, the axons, leave the CNS to innervate muscle fibers in order to generate movement. The CNS is isolated from the bloodstream by a physical and physiological barrier, the blood-brain barrier (BBB), which protects it from pathogens, toxins or other blood-circulating agents.
Targeting motor neurons has long been a major challenge for the development of drugs for neuromuscular diseases such as SMA. Meeting this challenge was one of Martine Barkats' research goals. She demonstrated that a recombinant vector, AAV9 (derived from the Adeno-Associated Virus serotype 9) was able to cross the BBB and thus reach motor neurons. This discovery led to a patent filed in 2007 (2) and a scientific article published in 2009 (3).
By using the AAV9 vector, Martine Barkats and her team then administered by intravenous injection, the DNA sequence encoding the SMN protein (AAV9-SMN) in an SMA mouse model. This allowed to significantly increase the survival of affected mice and the very promising results of this gene therapy were published in 2011 (4). To improve this therapeutic strategy, Martine Barkats' team is currently continuing this research at the Institute of Myology, studying in particular, the mode of administration of the vector and the long-term effects of the therapy. In parallel in the United States, the biotechnology company AveXis performed the first clinical trial in SMA type I (the most severe form of SMA) patients using the tool described by Martine Barkats. In November 2017, a scientific article reported the preliminary results of this trial, (6) which appear to be encouraging for the treatment of patients.
Towards patient treatment
AveXis, which was acquired in May 2018 by Novartis (5), has recently signed a license agreement with Genethon concerning Martine Barkats' patents. This agreement provides for the use of the AAV9-SMN vector and its administration in the CNS for the treatment of SMA in the United States, Europe and Japan. AveXis thus acquires the right to continue its clinical trials and to develop the therapy, pending FDA (Food and Drug Administration) marketing approval.
Several studies are already underway to apply this CNS transduction method to treat other neurological diseases, such as Amyotrophic Lateral Sclerosis (ALS).
1. See our news article from March 14, 2018 "Spinal muscular atrophy : AveXis enters into licensing agreement with Genethon".

2. The patent protects the compositions and methods for introducing genes into central nervous system cells in mammals. It also relates to methods of treating motoneuron disorders in mammals for the expression of therapeutic genes. The invention stems from the unexpected discovery that peripheral injection of AAV vectors leads to traversal of the blood-brain barrier and massive transduction of motoneurons, as well as other cells of the central nervous system. The invention can be used in any mammal, including humans.
Consult the details of the patent « Cns gene delivery using peripheral administration of aav vectors »
Consult the details of the patent "Widespread gene delivery to motor neurons using peripheral injection of aav vectors".

3. Intravenous administration of self-complementary AAV9 enables transgene delivery to adult motor neurons. Duque S, Joussemet B, Riviere C, Marais T, Dubreil L, Douar AM, Fyfe J, Moullier P, Colle MA, Barkats M. Mol Ther. 2009 Jul;17(7):1187-96. doi: 10.1038/mt.2009.71. Epub 2009 Apr 14.

4. Intravenous scAAV9 delivery of a codon-optimized SMN1 sequence rescues SMA mice. Dominguez E, Marais T, Chatauret N, Benkhelifa-Ziyyat S, Duque S, Ravassard P, Carcenac R, Astord S, Pereira de Moura A, Voit T,  Barkats  M. Hum Mol Genet. 2011 Feb 15;20(4):681-93. doi: 10.1093/hmg/ddq514. Epub 2010 Nov 30.

5. Consult the press release from Novartis on April 9 2018 « Novartis enters agreement to acquire AveXis Inc. for USD 8.7 bn to transform care in SMA and expand position as a gene therapy and Neuroscience leader »

6. Single-Dose Gene-Replacement Therapy for Spinal Muscular Atrophy. Mendell JR, Al-Zaidy S, Shell R, et al. N Engl J Med. 2017 Nov 2;377(18):1713-1722. doi: 10.1056/NEJMoa1706198.