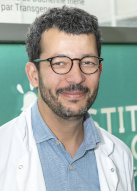 Team leader: Prof. Karim Wahbi
prof. Karim Wahbi is a cardiologist at the Institute of Myology and in the Department of Cardiology at Cochin Hospital. In 2018, he received 2 prizes during the 26th European Days of the French Society of Cardiology: best young researcher and best poster on the subject of heart failure/cardiomyopathy.
The activities of the Registries and Databases team are dedicated to the development and maintenance of databases, registers, observational studies and cohort follow-ups developed at the Ile de France regional level and the French national level. The objective of these academic or industrial promotion projects is to collect epidemiological data, natural histories, to assess the effect of treatments and to prepare future therapeutic trials.
Ongoing projects
National observatory for nuclear envelope diseases including laminopathies in collaboration with Gisèle Bonne, PhD, Inserm research team
Observatory for mitochondrial diseases  (PI: Prof. Laforêt)
Register on type 3 glycogenosis (PIs:Prof. Laforêt and Prof. Labrune)
Cohort follow up in Becker muscular dystrophy
Register on Pompe disease (PI: Prof. Laforêt, promotor : laboratoire Genzyme)

Team members
Prof. Karim Wahbi, cardiologist
Dr Rabah Ben Yaou, neurologist
Khadija Chikhaoui, clinical research associate (CRA)
Nawal Berber, clinical research associate (CRA)
Nadgib Taouagh, clinical research associate (CRA)
Néjette Lallouche, clinical research associate (CRA)
Key publications