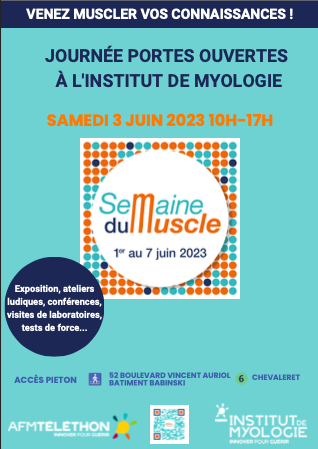 As part of Muscle Week, the Institute of Myology invites you to dive into the heart of the "Muscle".
On Saturday 3 June, between 10am and 5pm, we invite you to a special "Muscle" day at the heart of our Institute tomeetour scientific experts, doctors and researchers and discover muscle in all its states, understand how it works andtheinteractions it has in our body.
A real dive into the heart of our centre of expertise not to be missed!
On the programme, with free admission and workshops in small groups, you will be guided through our laboratoriestogain a better understanding of muscle, an organ essential to life.
Exhibition on muscle and history of myology
Videos " The amazing secrets of muscle
Discovery and educational workshops, games and quizzes for young and old (3D model, musclereconstruction,Cartaventura escape game, etc.)
Lectures by experts on muscle in the auditorium, throughout the day:

Clinical trials, how do they work?
The secrets of muscle contraction
Cell therapy and gene therapy

Strength tests and discovery of Myotools in our physiology and neuromuscular evaluation laboratory
Demonstrations of our standard and electron microscopes and discover spectacular images from muscle biopsies
Visit the imaging laboratory (MRI) and discover our study programmes on neuromuscular pathologies
Visit the laboratories of our Myology Research Centre for a dive into the heart of research on muscle and itsdiseases