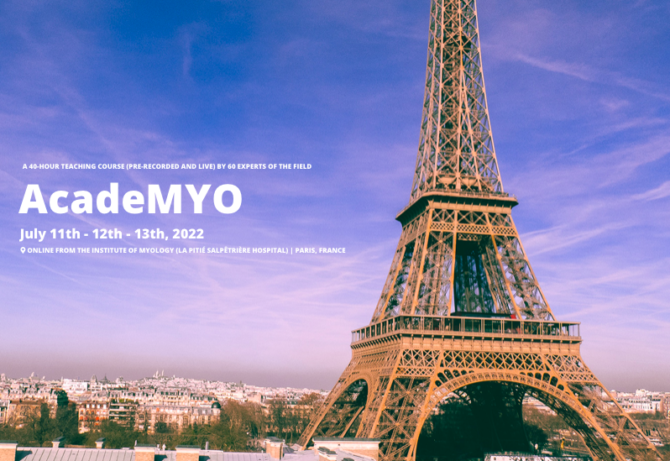 The 25th Summer School of Myology will take place at the Institute of Myology in Paris from June 12 to 16, 2023 in two ways: face-to-face, for 40 to 50 people, and online, on the same dates, for remote participants.
The full face-to-face course will include five full days of instruction combining lectures and practical workshops. Internet users will benefit from three interactive sessions of 4 hours each on Monday afternoon, Wednesday afternoon, and Friday afternoon.
One month before the start of the School and until September 15, 2023, all registrants (face-to-face or distance learning) will have online access to some sixty pre-registered courses.
All registrations will be done on the AcadeMYO platform after validation of the requests by the Scientific Committee of the Summer School. 
Requests for prior validation should be sent by email to J. Andoni Urtizberea at the following address: andoni.urtizberea(at)gmail.com. A simple CV will be sufficient.
The payment of the registration fees (500 euros for a face-to-face participation, 250 euros for a remote participation) will be done on the AcadeMYO platform in a secure way.
Further details on the 25th Summer School of Myology

Access the AcadeMYO platform