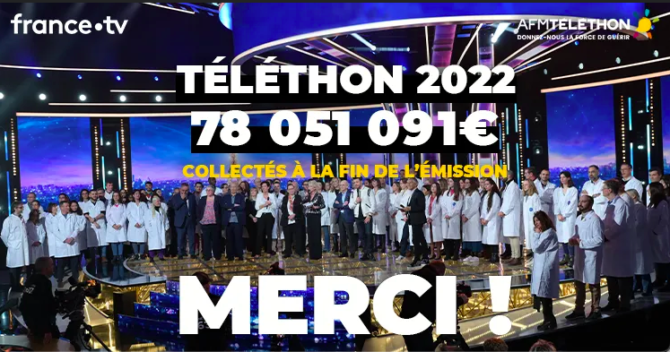 The Téléthon 30-hour-long broadcast ended with donations totaling 78 051 091 euros. From Guebwiller to Cassis, Dijon, Lorient and Cap-Ferret, millions of people came together again for the Téléthon, this unique celebration with its thousands of events. A vital support for the families and researchers, "these saving lives maniacs" as Kev Adams called them. But while researchers' victories multiply, all week-end long patients and their families reminded everyone of the urgency of finding new treatments.
"When you tell someone about their disease, there is no plan B. without research, without families' willpower and without everyone's generosity, we would not be here today. The first victories have paved the way, but we must push forward for those who await. This total amount raised, an exceptional amount in this difficult environment, enables us to do so. Thank you from the bottom of my heart for your solidarity, your generosity. Thank you to France Télévisions, our vital partner in this fight, and a special thank you to Kev Adams, our young Patron whose energy, charisma and sensitivity contributed to this successful outcome" said Laurence Tiennot-Herment, President of AFM-Téléthon, at the end of the broadcast.
The France Télévisions Group, historic partner of AFM-Téléthon, is proud to support all Téléthon teams, volunteers, patients, and their families for this 36th edition.
From the Lendit studio in Saint-Denis and from all over France – especially in the 4 cities of Cassis, Dijon, Lorient and Guebwiller, as well as Lège Cap-Ferret – France tv Studio's editorial and technical staff, tv hosts and journalists of France Télévisions made the French people live unforgettable moments both in the field and in front of their TV screens. With a 30-hour-long broadcast dedicated to the Téléthon, France Télévisions is delighted to be part of this successful fundraising event, which is crucial for medical research.
The Group also wishes to thank warmly Kev Adams, the youngest Téléthon Patron, for his generosity, involvement, and enthusiasm during these 2 very special days!
The Téléthon continues! 
The Téléthon continues!