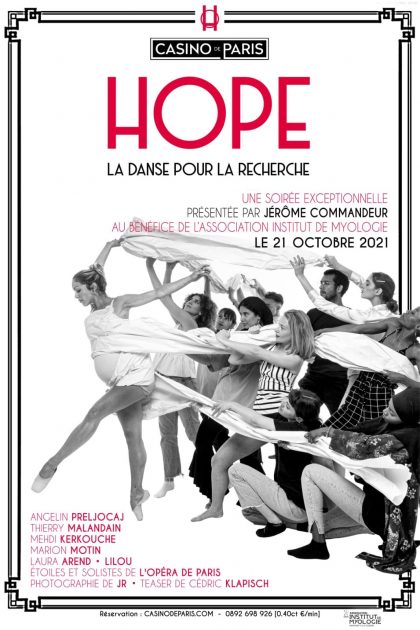 On October 21, at 8:30 p.m., the Casino de Paris will host an exceptional show for the benefit of the Institute of Myology, a research and care center of excellence created by the AFM-Telethon and dedicated to Muscle science and medicine. 
At the initiative of Laura Arend, dancer and choreographer, and Charlotte Ranson, dancer of the Paris Opera, this ballet, specially designed for this evening, will bring together big names from the contemporary and classical scene, notably Yvon Demol or Marion Montin, around original artistic creations and extracts from famous paintings such as the Parc d'Angelin Préljocaj. 
Book your seats quickly on the Casino de Paris website!
« We use our body to communicate, to make people travel, to make people dream. What if, for an evening, we could come together to offer this to the children, their families and research ». 
It is with these words that Laura Arend, a choreographer engaged for several years alongside the Institute of Myology, mobilized the Stars of the Paris Opera and great choreographers to create this exceptional gala. Thus, Charlotte Ranson, Yvon Demol, Marion Montin, Alice Renavand, Thierry Malandain, Lilou and Mehdi Kerkouche-EMKA, will dance, through 7 paintings, for the benefit of research on muscle. 
The artist Jérôme Commandeur will host this exceptional evening.
Teaser of the show, directed by Cédric Klapisch: