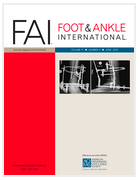 Hereditary sensory-motor neuropathies (HSMN also described as Charcot-Marie-Tooth disease or CMT) are characterized, in addition to their great genetic heterogeneity (more than 80 genes involved), by a predominantly distal muscle deficit and sensory disorders of very variable intensity. Orthopedic deformities, especially of the feet, are very often reported (hollow foot, varus foot, or a combination of the two) and this is more common the earlier the disease begins. However, the role of osteotendinous surgery, whether or not in addition to orthopedic treatment, remains discussed, due in particular to the lack of scientifically acceptable comparative studies.
In an article published in June 2020, North American clinicians established recommendations after exchanging expert opinions during a one-day workshop. Thirteen specialists in foot and ankle surgery and a neurologist expert in CMT were involved. This results in a series of recommendations both on the modalities of care (multidisciplinary approach, with a trio made up of the referent neurologist, the orthopedic surgeon, the physiotherapist and, where applicable, the orthopedic technician; standardized techniques of clinical examination) than in the place of surgery depending on the type of deformity.
A Consensus Statement on the Surgical Treatment of Charcot-Marie-Tooth Disease. Pfeffer GB, Gonzalez T, Brodsky J, Campbell J, Coetzee C, Conti S, Guyton G, Herrmann DN, Hunt K, Johnson J, McGarvey W, Pinzur M, Raikin S, Sangeorzan B, Younger A, Michalski M, An T, Noori N. Foot Ankle Int. 2020 (Juin).