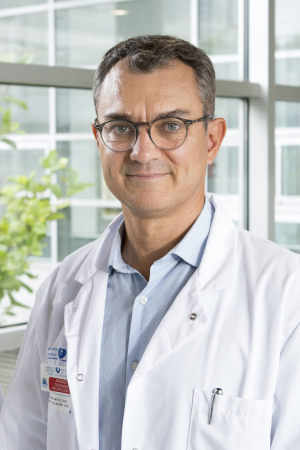 Interview with Guillaume Bassez, research professor and neurologist at the Institute of Myology's Service of Neuro-Myology.
What measures have been put in place at the Service of Neuromyology to respond to the COVID-19 health crisis?
Our service comprises 10 doctors: neurologists, rehabilitation doctors, psychologists and two interns. We usually handle 4200 consultations per year and over 1000 patients are followed up on an outpatient basis. At this very unique time, our motto, as medical staff, is "adaptation".
In response to this emergency situation, we have also had to completely review our organisation of neuromuscular patients in the service. Our priority has been to put in place a care continuity procedure for patients at high risk of cardiac and respiratory problems. Patients who were initially scheduled to visit on an outpatient basis have been assessed by tele-consultation, in order to rank them for risk and severity based on specific criteria. For those patients at highest risk of decompensated heart failure, a consultation service has been maintained on-site, at the Pitié-Salpêtrière Hospital, every Monday and Tuesday morning. A cardiologist and a pulmonologist supplement our team, ensuring patients are properly treated and performing the necessary examinations and assessments that cannot be performed remotely (pulmonary function tests, electrocardiograms and echcardiograms). Of course, strict hygiene and preventive procedures have been put in place to guarantee that patients and medical staff are protected. Almost 60 patients are benefiting from this service each week.
How are consultations being undertaken at the moment?
In response to the epidemic, we started the new tele-consultation process as quickly as possible, during the first week of confinement; hence, this tailored reorganisation of consultations for our patients.
As previously indicated, we have given priority to patients at high risk of cardiac and respiratory problems.
For other neuromuscular patients, face-to-face follow-up consultations have been rescheduled to avoid any potential contamination; however, they are all benefiting from the tele-consultation service that has been put in place.
Currently, we are following up an average of 100 patients by tele-consultation each week.
How are you and your team experiencing this situation?
Although the situation is serious and involves a profound readjustment in the way we function and in the treatment provided to patients with neuromuscular diseases, the Institute of Myology is demonstrating a remarkable commitment to mobilisation by the entire medical staff, whether within our different services or from the AP-HP (Paris Network of Public Hospitals), which is providing support.
The extremely quick deployment of tele-consultations demonstrates the responsiveness and adaptability of our teams, who have been able to change their way of working almost overnight, and in the process, are continuing to care for our patients and to provide them with treatment tailored to their situation.
We are also amazed by the tremendous generosity and solidarity that we see all around us. For example, we have received many donations of equipment and evaluation software for our patients, offered by our suppliers and service providers. We are extremely grateful for their gestures of goodwill and their contribution to the collective effort.
Finally, with the strong mobilisation of resources towards remote care at this time of COVID-19, we should not forget how essential hospital care and examinations are for neuromuscular patients. At an organisational level, the long-term nature of the crisis means that we are maintaining the organisation we have in place. Guaranteeing a high quality of care to our non-COVID patients remains a priority. The period following confinement will be characterised by heightened activity, with an increase in the number of face-to-face consultations, which poses a challenge with respect to rescheduling.
What message of hope would you like to convey?
The warm expressions of gratitude from patients during our tele-consultation interviews are unforgettable. I did not expect to encounter this at the same time as we were rapidly deploying an alternative technical solution to our usual face-to-face consultations. Our words are reassuring them. Some of these patients, especially those confined on their own, have considered these interviews to be a great success. This reinforces our conviction that this method is helpful for patients with chronic diseases who are limited in their ability to travel, and who are located far from the Institute.
The entire neuromuscular community, made up of a variety of occupations, is strongly committed. It is demonstrating its ability to adapt and to innovate, and is finding solutions with great skill. We are experiencing a tremendous show of solidarity and I am convinced that the values of generosity and mutual help will thrive beyond this epidemic.