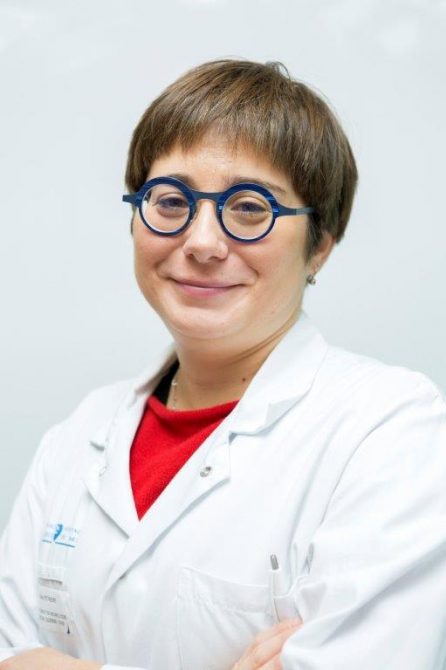 Interview with Giorgia Querin, neurologist and Coordinating Doctor for the adult clinical trials platform at the Institute of Myology since January 2020.
 
What measures have been put in place at the Service of Neuro-Myology and at the adult clinical trials platform in response to the COVID-19 health crisis?
We have reviewed our organisation to adapt to the situation and to give priority to the clinical management of patients. To this end, we have drastically reduced the number of face-to-face consultations to avoid contamination and we have replaced them with tele-consultations. Our department comprises 8 doctors and 2 interns, and we are managing approximately 50 patients per day. At the moment, we are following up between 25 and 40 patients by daily tele-consultation.
However, we have maintained a reduced number of on-site consultations for patients who cannot be followed up remotely, and in particular for those requiring treatment administration, by infusion or other route. Strict hygiene and preventive procedures have, naturally, been put in place to guarantee that patients and medical staff are protected.
Finally, we have put in place an on-call telephone service intended for emergency and resuscitation doctors currently treating COVID-19 patients suffering from neuromuscular diseases. This telephone hotline with the APHP (Paris Network of Public Hospitals) medical staff helps to provide better care of these fragile patients and to tailor their treatment according to their disease.
How are current clinical trials going?
Unfortunately, regarding clinical trials, a number of trial protocols have had to be postponed for several types of disease, in particular natural history studies requiring tests to evaluate the progression of the disease over time among fragile patients.
Therapeutic trials based on medicinal tests in collaboration with pharmaceutical groups have also been postponed.
At the same time, the AIM is highly involved in supporting several therapeutic trials seeking to identify a drug molecule that is able to improve the respiratory impairment caused by COVID-19, to reduce the risk of intubation and mechanical ventilation, and especially to reduce mortality. The adult clinical trials team is at the forefront in organising and putting in place trials on COVID-19, but it is important to stress that several AIM colleagues (clinical doctors, but also researchers) have also volunteered to help with this unprecedented health emergency.
How are you and your team experiencing this situation?
The situation is serious and particularly difficult for fragile patients suffering from neuromuscular disease, but also for the medical staff, who must continue to oversee the follow-up and therapeutic management of these patients. However, I am confident in the emergency measures that have been taken in response to this crisis, and I am particularly grateful for the organisation provided by the APHP (Paris Network of Public Hospitals), helping us to best maintain our activities in this unprecedented situation. This organisation allows us, the medical staff, to adapt and to better manage the situation for our patients.
I would also like to commend the medical teams, but also all the Institute of Myology teams, and to express my profound gratitude for the huge effort they have expended in adapting to the situation. Their unwavering motivation, their mobilisation and their flexibility in reorganising their duties and their missions in response to the crisis demonstrates a real strength and an exemplary show of solidarity.
What message of hope would you like to convey?
I am convinced that this crisis we are experiencing will result in new habits and will certainly change our way of caring for patients. This virtual contact that we have been forced to put in place with our patients is making us think differently about our approach to patient care. We need to learn to work differently, without negativity, but rather by improving processes, and adding new skills in the follow-up of our patients under "crisis management" conditions. A good example of this is the APHP COVIDOM application, which helps with the remote therapeutic care and tele-follow-up of infected patients. Other applications of this type could possibly emerge in the future.
We truly hope to learn from managing this epidemic, and it is constantly enriching our research work, which is being pursued in parallel. This crisis is only reinforcing the importance of conducting clinical trials and validating them, in order to treat patients with tailored therapies. Clinical research is especially important in a crisis situation, since it engages us ever more, and in ever greater numbers, in researching new treatments.