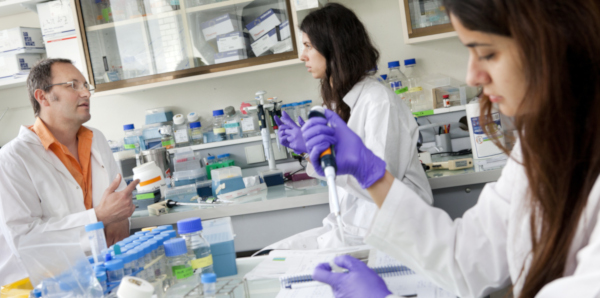 Our health professionals and researchers, who are on the frontline at the Pitié-Salpêtrière Hospital in Paris, are mobilising to help patients.
All the health professionals and care practitioners in the Neuro-Myology Department have met to identify, as a priority, the most fragile neuromuscular patients in order to ensure their continued care and follow-up in a strengthened health framework, and thus to provide them with all the necessary help they need (reception, tele-consultation, follow-up, etc.). If you have any questions related to your neuromuscular disease, please contact your country's health authorities.
It is worth noting that almost 30 individuals have also volunteered from the Institute of Myology teams, to offer their expertise and to share their skills, in order to participate in the national effort against the epidemic.  Researchers, technicians, engineers and laboratory staff have all mobilised in large numbers to support the Paris Public Hospital system (AP-HP) teams in their missions and to drive back the virus.
Also, all the Institute of Myology support teams and the staff from various organisations and partners (AIM,  AP-HP,  CEA, INSERM,, Sorbonne University) have mobilised via the Continuity of Operations Plan to continue to support patients and their families, care and research in the context of an epidemic that is presenting a number of health challenges.
This wonderful show of solidarity is an example to us all. Let us all remain attentive and responsive, so that we can contribute to the collective effort. It is by pooling our vital forces and our resources, together in a committed manner, that we will succeed in combating this epidemic and defeating the virus!
In order to help health professionals to face this epidemic, there is a single rallying cry: Follow the recommendations made by your competent authorities and stay at home!