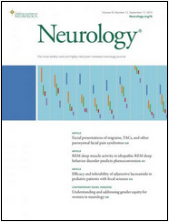 The purpose of the study was to determine the frequency and relative importance of the most meaningful symptoms in facioscapulohumeral muscular dystrophy (FSHD) and to identify the demographic and clinical features that are associated with the greatest disease burden in this population.
The authors performed a cross-sectional study involving 328 participants with FSHD. Collectively, participants reported the prevalence and relative importance of 274 symptoms and 15 symptomatic themes. The researchers assessed the association between symptomatic theme prevalence and participants' age, sex, disease duration, pain level, employment status, and education.
Participants answered >48,000 questions regarding their disease burden. The symptomatic themes with the highest prevalence in the sample were problems with shoulders or arms (96.9%), limitations with activities (94.7%), core weakness (93.8%), fatigue (93.8%), limitations with mobility and walking (93.6%), changed body image due to the disease (91.6%), and pain (87.7%). Problems with shoulders and arms and limitations with mobility and walking had the greatest effect on participants' lives. Employment status and the report of pain had the most extensive association with the prevalence of symptoms, with employment being associated with 8 of 15 of the symptomatic themes and pain being associated with 7 of 15 of the symptomatic themes. Men and women with FSHD experienced a similar prevalence of all symptomatic themes.
Adults with FSHD experience a variety of symptoms that play an important role in their disease burden. These symptoms have a variable prevalence and importance in the FSHD population and are associated with disease duration, employment status, and pain level.
Patient-Reported Symptoms in Facioscapulohumeral Muscular Dystrophy (PRISM-FSHD). Hamel J, Johnson N, Tawil R, Martens WB, Dilek N, McDermott MP, Heatwole C. Neurology. 2019 Aug 13.