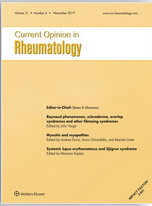 The purpose of this study was to review the advances that have been made in our understanding of the genetics of idiopathic inflammatory myopathies (IIM) in the past 2 years, with a particular focus on dermatomyositis and polymyositis.
Fine-mapping studies in the major histocompatibility complex region in Caucasian and Korean populations have identified novel human leukocyte antigen (HLA) variants that are associated with autoantibody subgroups in IIM. Differences in HLA associations have been identified between Caucasian adult-onset and juvenile-onset patients with anti-TIF1 autoantibodies, suggesting distinct aetiologies in these patients. For some autoantibodies, the strongest associations identified are specific amino acid positions within HLA molecules, providing mechanistic insights into disease pathogenesis.A meta-analysis combining data from four seropositive rheumatic diseases identified 22 novel non-HLA associations in IIM, of which seven were previously reported at suggestive significance in IIM. A genome-wide association study conducted in the Japanese population identified a significant association with WDFY4 in patients with clinically amyopathic dermatomyositis.
Considerable progress has been made in understanding the genetics of IIM, including differences in clinical and autoantibody subgroups. As research continues, there should be a focus to increase statistical strength and precision by conducting meta-analyses and trans-ethnic studies.
Genetics of idiopathic inflammatory myopathies: insights into disease pathogenesis. Rothwell S, Chinoy H, Lamb JA. Curr Opin Rheumatol. 2019 Aug 13.