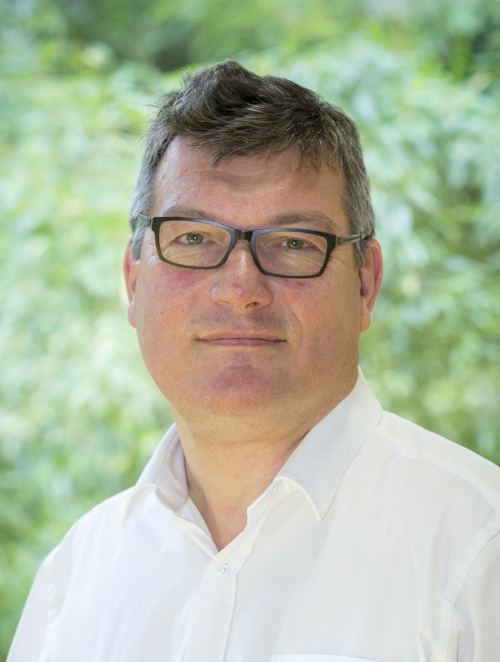 For the first time, a hospital service has been dedicated to the field of Neuromyology in a facility that allows teaching hospital activities to be conducted, recognising the specificity of the nerve-muscle combination. A complete facility dedicated to this field has been created, centred around the patient and involving a clearly defined project aimed at patient service and a specialised medical and paramedical team. Interview with Bertrand Fontaine, head of this new Service of Neuromyology and director of the Institute's Myology Research Centre.
What is the impact of creating the Service of Neuromyology?
The change from a consultation service to an entire service involves a change of scale, which leads to changes at different levels. First of all, for patients, with an improvement in the quality and safety of the care provided, access to innovation in an entirely safe context, and inclusion in therapeutic trials. Then, for healthcare professionals, with greater practical training provided. Finally, at an organisational level, we are starting with three extra appointments and we are keeping the existing organisational structure, reorganising its functioning in the context of new constraints associated with the status of hospital department.
How will the service provided to healthcare professionals change?
The creation of a teaching hospital service offers a place where practical training can be obtained. This allows us, therefore, to create a training pathway for healthcare professionals at every level, both medical and paramedical. We can also respond to requests from healthcare professionals wishing to receive training in this area.
How does this change things for patients?
In making the change from status of consultation to service, we have acquired greater visibility but also more significant obligations. One example one could give is that the change in status requires us to recruit a healthcare manager to assist the head of the service. These two people together guarantee the quality and safety of the care provided to patients. In a hospital system like ours, with innovative therapies requiring very high levels of safety, it is necessary to have a formal framework for these practices.
Is the treatment pathway made easier?
Of course, we keep those aspects that exist already in the multidisciplinary consultation context and meet the needs of patients, and we add a new dimension, because this is precisely one of the priorities for our departmental project. Additionally, we are accountable with respect to patient satisfaction: we must improve the treatment pathway so that it is less painful, less tiring and involves less idle time.
Returning to the issue of trials, it was also intended that a clinical trial centre for adults would be created at the Institute using the same model as the I-Motion paediatric centre. Is this centre now operational?
The first staff for the centre were recruited this summer. The adult part of the centre is now operational. Around 15 trial protocols have been identified, 4 of which have been initiated. It will, obviously, be an extremely important tool for the Neuromyology Service, since it will allow clinical research to be developed at the very heart of the department. In the context of follow-up, we will propose to eligible patients that they participate in therapeutic trials. This clinical trial centre is also important in further strengthening ties between researchers at the research centre and the Neuromyology Department.
You are both director of the Myology Research Centre and head of the Service of Neuromyology. What advantages does this dual status provide?
It helps me to create strong ties between the laboratory researchers and the clinicians. In other words, to coordinate and use resources that have been accumulated (in the Myobank Institute's tissue bank, in the Histopathology Unit, and in the Généthon DNA and cell bank), in order to diagnose syndromes that do not yet have a name and to characterise the causes of diseases that have not yet been elucidated. Once we have identified new genes, we put the research teams specialising in these genes in touch with the clinicians. And inversely, it involves helping researchers to access therapeutic developments through a dialogue with clinicians.
We must be ready to accommodate innovative treatments that have been developed, firstly in order to conduct clinical trials, then as soon as a medicine receives marketing authorisation, to make it immediately available to patients by the Neuromyology Department.