Wilson SAVINO (Professor at the Oswaldo CruzRio-de-Janeiro, Brazil)

will give a lecture on september 12th 2019 at 11AM in the lecture room of the Institute of Myology*

in connection with his nomination as Docteur Honoris Causa of Sorbonne Université

Title: Does the thymus have anything to do with the skeletal muscle ?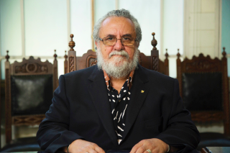 Wilson Savino is professor at the Oswaldo Cruz Foundation: Fiocruz (the most important institution in biomedical sciences of South America), and member of the Brazilian Academy of Sciences. He has been director of the Oswaldo Cruz Institute in Rio-de-Janeiro (the first historical structure of Fiocruz) from2013 to 2017, and has been president of the Brazilian Societies for Immunology, Cellular Biology, and of the International Society for Neuro-Immuno-Modulation.
Wilson Savino is currently coordinator of the strategies for national integration of FIOCRUZ, as well as of the cooperation programs between FIOCRUZ and France. In recognition of his efforts for the French-Brazilian cooperation, he has been nominated Chevalier de l'Ordre des Palmes Académiques in2013, and his laboratory has been visited by the Minister of Health, Marisol Touraine, in Septembre 2015. He is also very much implicated in the fight against emerging infectious diseases such as Dengue or more recently Zika.
The work of Wilson Savino has led to over 300 publications.
His career has been linked to the French-Brazilian cooperation since almost 40 years. Savino arrived in Paris in April 1981, when François Mitterrand was just elected (a shere, but happy coincidence as he says). He carried out part of his PhD, then post-doc with Mireille Dardenne, in Necker Hospital. He came back to Brazil in 1985 to start his own research laboratory on thymus at the Oswaldo Cruz Institute. He pursued ever since collaborations withFrench laboratories, in Paris but also in Lille, Lyon, Montpellier, Toulouse.
His collaboration with the Institute of Myology, from ex-UPMC now Sorbonne Université, began in 2002, when we decided to join efforts in immunology and myology to better understand the cellular and molecular mechanisms involved in muscular dystrophies, investigate the role of extracellular matrix, and improve therapeutic strategies. This common research effort allowed us to set up innovative models of xenografts, to characterize the kinetics of muscle regeneration using humanstem cells, and to define a new predictive biomarker for Duchenne Muscular Dystrophy. These are only few examples among many others, which resulted in many common publications, exchanges of students and young researchers, and finally to the creation of an International Associated Laboratory which has been ongoing for 6 years and will hopefully be soon renewed by INSERM, Sorbonne Université and FIOCRUZ.
* Lecture room of the Institute of Myology
Building Babinski, groundfloor
Hôpital de la Pitié-Salpêtrière
Entrance 82 bd Vincent Auriol
metro Chevaleret