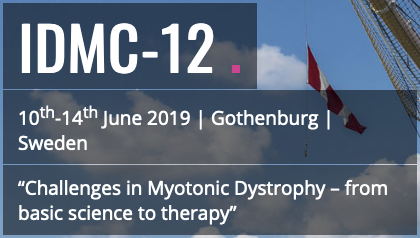 The 12th International Myotonic Dystrophy Consortium Meeting (IDMC-12) brings together, every 2 years, leading scientists specialising in myotonic dystrophy from all over the world. This year, it was held from 10 to 14 June 2019 in Gothenburg, Sweden.
Several members of the "Repeats expansion & DM" (REDs) team 4 from the Institute's Research Centre presented papers and posters at this meeting, and 3 of them were rewarded. Indeed, during each edition of the IDMC, one scientist and one clinician from the myotonic dystrophy community are given the spotlight.  "This year, the spotlight was given to Geneviève Gourdon for the research part, and Guillaume Bassez for the clinical part. Furthermore, postdoctoral researcher Anchel Gonzalez was awarded the Poster prize. This feedback is very positive in terms of the visibility of our team and of the Institute of Myology", Denis Furling, the team director, explains.
Steinert's disease (myotonic dystrophy type 1) is the most common form of muscular dystrophy in adults. It affects 7 to 8000 patients in France. It affects the muscles of the body, which become weaker and experience difficulty in relaxing at the end of contraction; this makes all movements disorganised.