A day was organized in honor of Gillian Butler-Browne, renowned researcher, for her official retirement. On March 29th of this year, the Myologie Institute brought together eminent scientists from around the world, who are also some of her close friends. The event was held the next day after Myology 2019, and although most researchers were in France, all those who could attend did accept the trip, others made a stop-over in Paris just for the occasion, and those who were not able to make it sent messages to her attention.
Interview with Vincent Mouly who organized the event.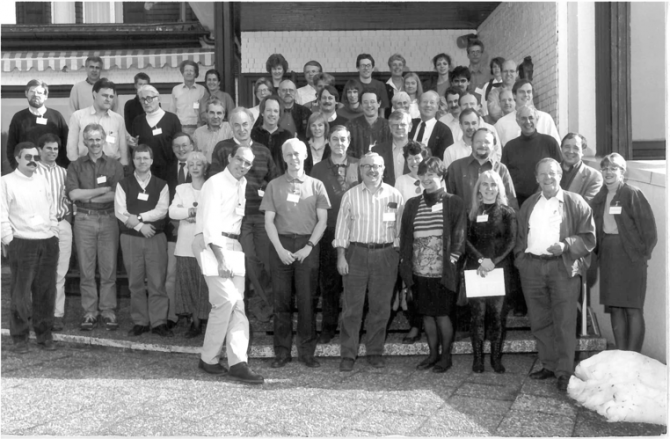 How did you come to the idea of organizing such a day ?
It's not very common but there was already an event held for Terry Partridge when he left the United Kingdom and there will also be a small celebration for the retirement of George Dickson in July. The idea was very simple: offer a very lovely gift to Gillian by gathering her friends around science, and perhaps the list of participants could make it seem like a conference day, but, it didn't exactly happen like that.
The day in fact, included many activities…
During her career, Gillian was in contact with a number of people. The activities were very diverse in nature, each person having full freedom. Stories about encounters, in laboratories or during congresses, the birth of collaborations that evolved into friendships, the emergence of scientific ideas, personal anecdotes, the history of what Gillian has brought to the scientific community, the manner in which research came together, work in progress… The program could have been even heavier, but not all of the invitees were able to come.
On what criteria did you base the day's schedule?
The order of speakers was decided according to their arrivals and departures, but I wanted it to be Michel Fardeau or François Gros that opened the day (Michel could not be present and sent a letter and so it was
François who did the opening). A video of Laurence Tiennot-Herment* followed. The AFM, in fact, heavily depended on Gillian for a very long time. Having arrived in France in 1978 to finish her thesis on histones, François Gros proposed that she join his bio-chemistry laboratory at Pasteur Institute, yhere she started to work on muscle. Then she navigated between François Gros' and Michel Fardeau's laboratories that had just been set up and had absolutely no space…
All of the speakers has worked with Gillian at one moment or another?
Yes, her professional life was always marked by collaboration. The AFM Telethon was the common point that she has with some of those present, but Gillian also played the role of organizing/knitting together relationships building networks over years. She always went to speak with everyone during meetings, with motive "With who to collaborate to go further?" It happened that a European project that she submitted was close to another proposed project and she was able to align with the other submitting party in order to submit an common project out of two initial propositions. It is the subject that is important and we are always looking for what will advance the subject.
What was the role of her team?
If the subject is moving towards collaboration, this pertains to two collaborations but pertains overall to all the members of the team: this opened them to the international world, this made them understand, this made them discover, other tools, this gave them supplementary results. The team was always absolutely essential or Gillian. She remained in contact with all of her students!
And now, retirement?
Not exactly…she is a distinguished researcher and was re-elected as the Scientific AFM Telethon Council secretary. Here, there is an ongoing project on the secretome: Bertrand Fontaine entrusted her with all international activities for the Myology Institute Research Center. Furthermore, she continues to build networks: she is working on the Colombus collaboration (Keven Flanigan), and New Castle. There is also a request to create a network in Florida (Lee Sweeney) and Padoue (Marco Sandri). Gillian never really stopped!
* Laurence Tiennot-Herment is the president of the AFM-Telethon, of the Institute of Myology and of Genethon.

Access the complete programme of Gillian's day