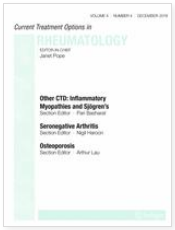 A growing body of evidence supports exercise as a very important part of the treatment for adult patients with idiopathic inflammatory myopathies (IIM). This review mainly focuses on exercise studies published during the last 2 years in adult myositis.
During the last couple of years, new publications present further evidence for intensive endurance exercise as an anti-inflammatory treatment inducing muscle growth and improving mitochondrial function compared a non-exercising control group. Further, blood-flow restricted resistance training was effective to maintain muscle strength compared to a non-exercising control group which lost a mean of 9.2% in quadriceps strength over 3 months in inclusion body myositis. Another study evaluates the effects of intra-muscular injections of an isoform of follistatin (FS344) by AAV1 in combination with exercise in a small group of patients with inclusion body myositis. An improvement in physical capacity was associated to higher exercise levels. Less is known about exercise effects in patients with recent onset, active polymyositis, and dermatomyositis.
All studies report safety of exercise in all types and stages of myositis and exercise could now be considered as medicine. It is recommended to initiate exercise on a low intensity under supervision of a physical therapist with regular follow-up and progression of intensity over time.
Exercise in Myositis. Alexanderson H. Curr Treatm Opt Rheumatol. 2018;4(4):289-298. doi: 10.1007/s40674-018-0113-3. Epub 2018 Nov 23.