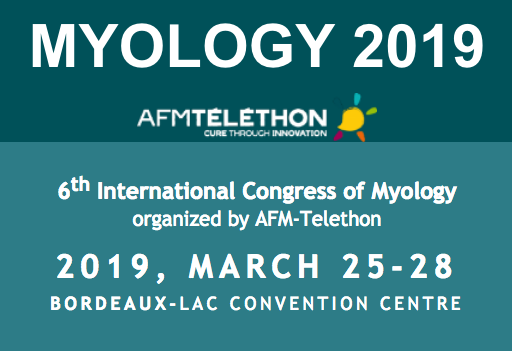 The 6th International Congress of Myology, organized by AFM-Telethon, will take place on 2019, MARCH 25-28, at the Lac Convention Centre in Bordeaux (France). 
More than ever, therapeutic innovation will be at the heart of this event in all its aspects: gene therapy, pharmacogenomics, gene surgery and others.
The successful research conducted in nerve and muscle physiology, and in neuromuscular disorders in general, as well as the multiplication of clinical trials involving hundreds of patients worldwide are now bearing fruit. The first effective treatments are now available for patients, and ongoing trials are more than ever synonym of hope and victories to come. We know it, a new era is opening up for our diseases that were regarded as incurable till recently, and MYOLOGY 2019 will reflect this change of paradigm for sure.
Presidents:
Odile Boesflug-Tanguy (Robert Debré Hospital / Inserm, Paris, France; President of AFM-Telethon Scientific Council)
Kevin Flanigan (Nationwide Children's Hospital, Columbus, Ohio)
Visit our website from 15 June 2018 to register!