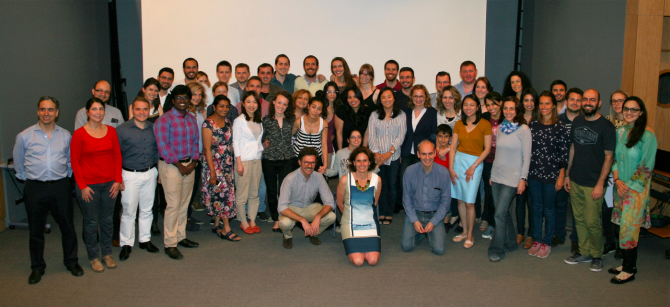 The 19th Summer School of Myology took place at the Institue of Myology from 23rd June to 1st July. Fifty three students completed courses, nearly as much as our record numbers last year.
Amongst some 26 nationalities represented, a majority of Latin people  : 3 comme from Brazil, 4 from Argentina, 2 from Mexico, 2 from Costa-Rica, 1 from Chile, 3 from Spains, 2 from Portugal and 2 Italy, as well as a significant French contingent,  members of the doctoral program Myo-Grad. Considering professional origin, besides traditional medical profiles, a professional translator, an assistant working for Treat-NMD and a person from industry have undertaken the courses.
Course content show a similar picture to previous issues. In should be noted Hanns Lochmüller (Newcastle) return after an absence of several years, and Yann Péréon (Nantes) arrival to conduct a workshop on EMG.
You will soon have news concerning a major event that is highly anticipated, and that we hope we will celebrate fittingly: the 20th anniversary of the SSM!
We will keep you informed of the possible dates as soon as they are fixed.