A future Foundation serving a major discipline: Myology
In less than 30 years, Myology has grown from a fledgling science to a burgeoning discipline. The multiplication of research avenues and advances has propelled muscle to the rank of innovation model for scientific and medical research.
The study of muscle is of benefit to many in order to advance knowledge not only of diseased muscle but also of healthy muscle, injured muscle, athletic muscle and ageing muscle.
Now recognized as a discipline in its own right within the international scientific research community, thanks notably to the Institute of Myology's expertise, Myology must now provide additional resources essential for the continuation of its development.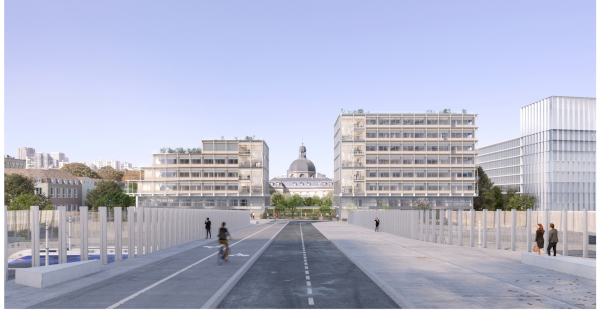 In this context, and in order to respond to the major public health issue of muscle, the Institute of Myology and the AFM-Telethon have decided to carry out a major project for a Foundation of Myology, the objective of which is to study, diagnose, evaluate and treat muscle as a whole.
The future Foundation of Myology aims to accompany this new decisive phase to its highest level while giving France a new opportunity to strengthen its leadership in the promising field of innovative biotherapies.
Located in Paris, near the Pitié Salpêtrière Hospital, the Foundation of Myology will be a place of international influence that will host the best teams working on muscle.
The ambitions of the future Foundation of Myology
A strong base: The Institute of Myology combining different expertises around the diseased muscle
A broader scope: muscle in all its dimensions
A Foundation with a national dimension: an asset for the myological forces present throughout France
An international ambition with reinforced scientific expertise
A renewed attractiveness based on innovation and new partnerships (technological platforms, start-ups, etc.)
Muscle, a model organ, a source of therapeutic innovations
One objective: to have Myology recognised as a transversal discipline
The building that will house the future Foundation
Located in the Paris Rive Gauche concerted activity zone developed by SEMAPA, at the interface between the Pitié-Salpêtrière hospital site and the new Austerlitz district, the future Foundation of Myology will cover nearly 10,000 m² by 2027.
Designed by the group composed of the architects Brunet Saunier & Associés and Belval & Parquet Architectes, the design offices CET Ingénierie and GAYA Développement Durable, and with the expertise of CAREIT Projet Management, the building has been designed with environmental quality in mind and will aim for HQE Bâtiment Durable certification at the excellent level.
For more information on the proposed future Muscle Foundation: m.frenkian@institut-myologie.org


To support the development of the Institute of Myology and its Foundation project, we invite you to visit the website (in French): don.institut-myologie.org