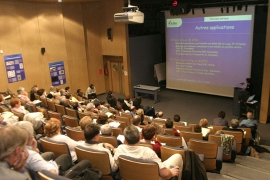 The auditorium is a 115 seat complex where the summer school and Myology interuniversity diploma courses, and certain seminars and AFM-Telethon press conferences take place. The Institute of Myology also enables its partners, the Pitié Salpêtrière Hospital Group and external organisations to organise symposia, meetings and research seminars there, with the content being obligatorily medico-scientific.
Terms of rental
Two types of auditorium rental are available on weekdays from 9 am to 5:30 pm:
Independent rental
Rental with the presence of a technician
How to rent?
The rental package includes a contract, price and booking confirmation, in which the proposed services are detailed: type of rental, equipment available. This contract is sent, after checking the availability and reception of the reservation request in writing.
To make a rental request: resa-salle@institut-myologie.org
For information on rental terms, please contact:
Frédéric Querville + 33 (1) 42 16 58 59