I am not from far away like some of my Belgian, Romanian or Italian colleagues, but I could tell you about my Greek origins. However, I'm sure that with a name like mine, you would believe me…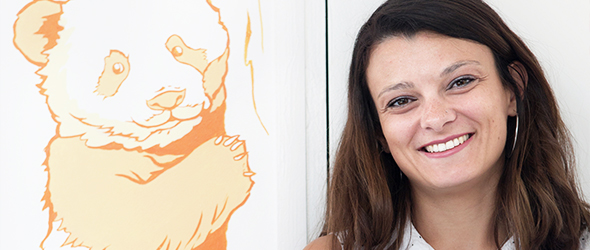 I'm the newest in the team. I joined the team in January 2016 after I spent a few years at the lab bench, talking to cells and mice. The human contact was definitely missing.
Within I-Motion, my work as a Clinical Research Associate (ARC) allows me to be in contact with people, which I particularly appreciate. Under the guidance of my project leader, I ensure that at the Institute clinical trials are conducted properly, both nationally and internationally. Solving problems is part of my daily life.
Outside of work, I live in a menagerie: two cats, a dog and a baby who is growing too fast… fortunately, everyone gets along well! I love cinema, Indian cuisine, Disney and I love spending nice evenings with friends.
I choose the baby panda because I am the last one in the team, and day after day I'm filling a small place in this great team dedicated to the well-being of children.