Before I became part of the team in February 2018, I had a somewhat atypical professional career.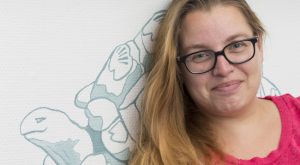 I started my professional life 14 years ago as a nursing assistant, then I wanted to evolve in the administrative world, while maintaining a human contact, and I had the opportunity to occupy the post of hospital secretary in a department of Neuropediatrics, in which I learned a lot about the different neurological pathologies in children. I had the chance to meet Pr Servais there, and to participate in setting up and programming the first injections of Nusinersen. Due to special circonstances, he offered me to join the I-Motion team as medical secretary, and here I am !
Since my arrival, I have been able to learn a lot of new things, among others on clinical trials, but also on different neuromuscular pathologies, and it is very enriching! I appreciate that the human side of medicine is preserved, and working in contact with so many competent people is very motivating!
Aside from I-Motion, I am the mother of a big boy, who puts me through the mill, but without whom my life would be bland. I like logic and puzzle games, sci-fi series and novels, the Marvel universe and ballads in Paris.
In the animal mural, I chose the turtle, because slowly but surely, it always reaches its destination, and so do I !