As my name does not necessarily give it away, I was born in Paris from Japanese parents. After various experiences as a physiotherapist, my interest was piqued for a field I knew nothing about: the Clinical Research.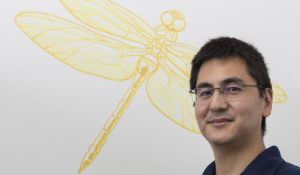 I joined I-Motion for the first time in 2018 and I came back in 2019 to reunite once again with its wonderful team.
I like the international side of the site too. Hoping that my Japanese will be of some use, at least more than giving adresses of Japanese restaurants to my relatives (or translate manga dialogues !)
I chose the dragonfly which is in the physiotherapy room. It is a famous Japanese symbol. The dragonfly always goes back to its roots and also never steps down. Many samurais used it as a cloth pattern to lead their fights.
And here at I-motion, it is also the spirit that I adopt to work with  our young patients…But also to convince my two adorable little girls when they throw tantrums… !
I will conclude this short presentation with a quote from Edgar Morin  : «True novelty always come from going back to the roots».