As a biologist, I carried out a PhD specialized in Ecotoxicology. To put it simply, I was interested in the effects of chemicals on fish.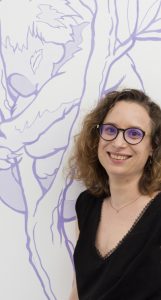 Only in 2015 I jointed the therapeutic trial team at the Institute of Myology as a clinical research associate (ARC).
My role, among other things, is to prepare the visits of the patients included in various protocols and to ensure that the latter takes place for the better. Thus, I connect different stakeholders. Then I collect and record all the obtained clinical data.
I've always been interested in environment protection and I liked fish very much, but my relation with patients is the same but more fulfilling and this work fascinates me.
As for my private life, I haven't got a "family" life yet, so when I have free time I like hanging out with my friends, sleeping and eating. These simple pleasures of life are well understood by the koala, my favourite animal, which is beside me on the photo.