When I arrived in the team three years ago as an associate, for the first time I discovered the medical environment and the clinical trials. My past experiences took place in the cultural field. As I received education in human sciences, I was curious to confront myself with what I then considered as another planet … and I was not disappointed by this dive into the unknown.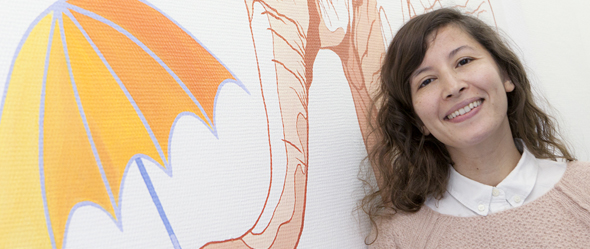 Being a part of this enthusiastic and dedicated team in many ways is very knowledgeable, but also, and above all, humanly. I like this idea to make I-Motion a structure of excellence but also accessibility, where everyone, patients and professionals, feel at home. I-Motion is also and above all laughter and if you aren't wasting time, good atmosphere is always there.
What I appreciate in my work are the children I have the happiness of being able to welcome as soon as they arrive, since I work at the reception. It is also the families we happen to know little by little during visits.
Apart from I-Motion, in bulk, I like discovering cinema from around the world, going to the theater and exhibitions, reading comics (especially Marc-Antoine Mathieu, my idol), knowing better Japan and Korea, and last but not least, listening to the apocalyptic flights of English band Muse.
In the animal mural, I chose the elephant, a symbol of wisdom and benevolence, as a tribute to the beautiful film by David Lynch, Elephant Man, which I believe is the hymn par excellence to tolerance.