I chose, rather soon, after my master's degree, to orient myself towards clinical research and in particular to the profession of clinical research associate.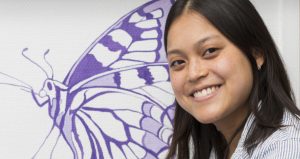 To practice a health-related job was indeed obvious to me, and as a biologist, clinical research appeared to be a good way to continue in research .. without mice but with patients, real ones! What could be more rewarding than taking part in setting up and following up new treatments to cure diseases that considered being incurable?
This year, in 2017, I am fortunate (but I am not sure yet …) to be able to perform my two-year Master's program alternately at I-Motion, in a dynamic, motivated, cosmopolitan team which is always  in a good mood!
Outside of work and studies, I like music, going to concerts and enjoying these intense and unique moments of closeness between the artist and his/her audience. I also like traveling, trying to learn foreign languages, buying cookbooks to salivate in front of the photos, and … cooking, when I have time!