During my Master's degree, I decided to focus on clinical research and work as Study coordinator/Clinical research associate.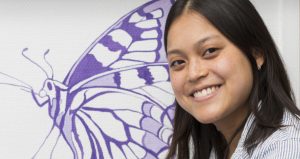 It is important for me to take part in research and to help little patients and their families : over the years, I have really become attached to them !
I can say that we are lucky to work in a motivating field within a dynamic and caring team : we can easily rely on each other and to me, it is essential to move forward efficiently and always in a good mood !
Outside of work : I love music and playing a few notes on the piano once in a while, going to concerts and enjoying these intense and unique moments of proximity between the artist and the audience. I also love traveling, learning new languages, cooking… and my latest passion : baking and sharing all these calories with the team who have volunteered to taste every single cake that comes out of my oven. 😉
I chose the butterfly as a totem to represent how far I have come since I joined I-Motion : a baby caterpillar that has gained confidence and is now flying on its own.