After 15 years of experience in pediatrics physiotherapy and higher education in Croatia, I decided to take a new step in life and move to France.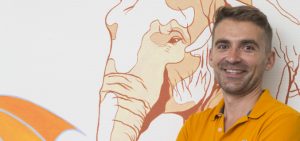 Joining I-Motion research team in 2019 was kind of a dream come true for me, because when I started my PhD in Neuroscience it was with the idea to one day possibly work in a team like this one. As my thesis is focused on development of an outcome measure in pediatrics working here integrated all my previous skills and knowledge and provided me with a lot of new ones.
Being at the source of new findings in neuromuscular diseases, where basic research meets clinical research, comes as a privilege and also as great responsibility to me. Performing outcome measures with pediatric patients included in clinical research trials with precision and a dose of fun to motivate the children is physiotherapist's principal role here at the Institute.
Working amid an international team and evaluating children in French, English, and a few words of Croatian, Polish, Russian…adds a lot of charm to everyday challenges.
Outside of I-Motion I practice and teach yoga in studios around Paris, and like to read, draw and cycle. Exploring cities and country side on a bicycle is one of my favorite activities.
From the beautifully painted animals from the walls of I-Motion Institute I chose the elephant because it reminds me of the Hindu deity Ganesha, also known as remover of obstacles, the patron of arts and sciences and protector of the learning path. As clinical research is often full of obstacles and as we learn new things every day from our patients, we need all the help we can get!