The request
The request is analysed then validated by Myobank-AFM's Scientific Committee.
The role of Myobank-AFM is to provide, as soon as possible, the samples requested by researchers. If it does not have the sample in stock, it relies on its network of collaborations with physicians to collect them.
Tissue sampling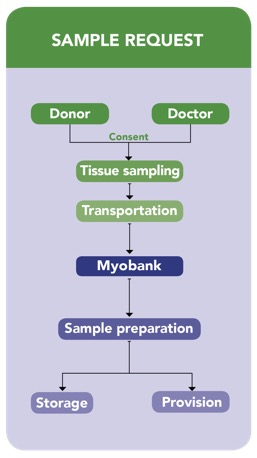 The sampling of human tissues or cells is carried out by doctors.
The following are collected:
Remaining or extra tissue that has been removed during a medical procedure, after patient consent
Tissue samples carried out as part of a defined clinical research protocol, in conformity with France's Huriet law
Extra tissue that has been removed during a diagnostic biopsy
Preparation
The sample is conditioned depending on its anticipated use, so as to maintain the inherent qualities of the tissue.
The different types of preparation carried out on the premises Myobank-AFM allow:
Cell cultures
Biochemical studies
Studies requiring conservation of the morphology
The traceability and transmission of information concerning the sampling process or the sample itself are provided by the GBC database©.
Storage or transportation
If a researcher does not request a tissue sample, it is stored on the premises of Myobank-AFM. Myobank-AFM can also, at the request of researchers, store and reserve samples for them. The choice of transportation mode is made according to safety criteria and with respect to preserving conditions.