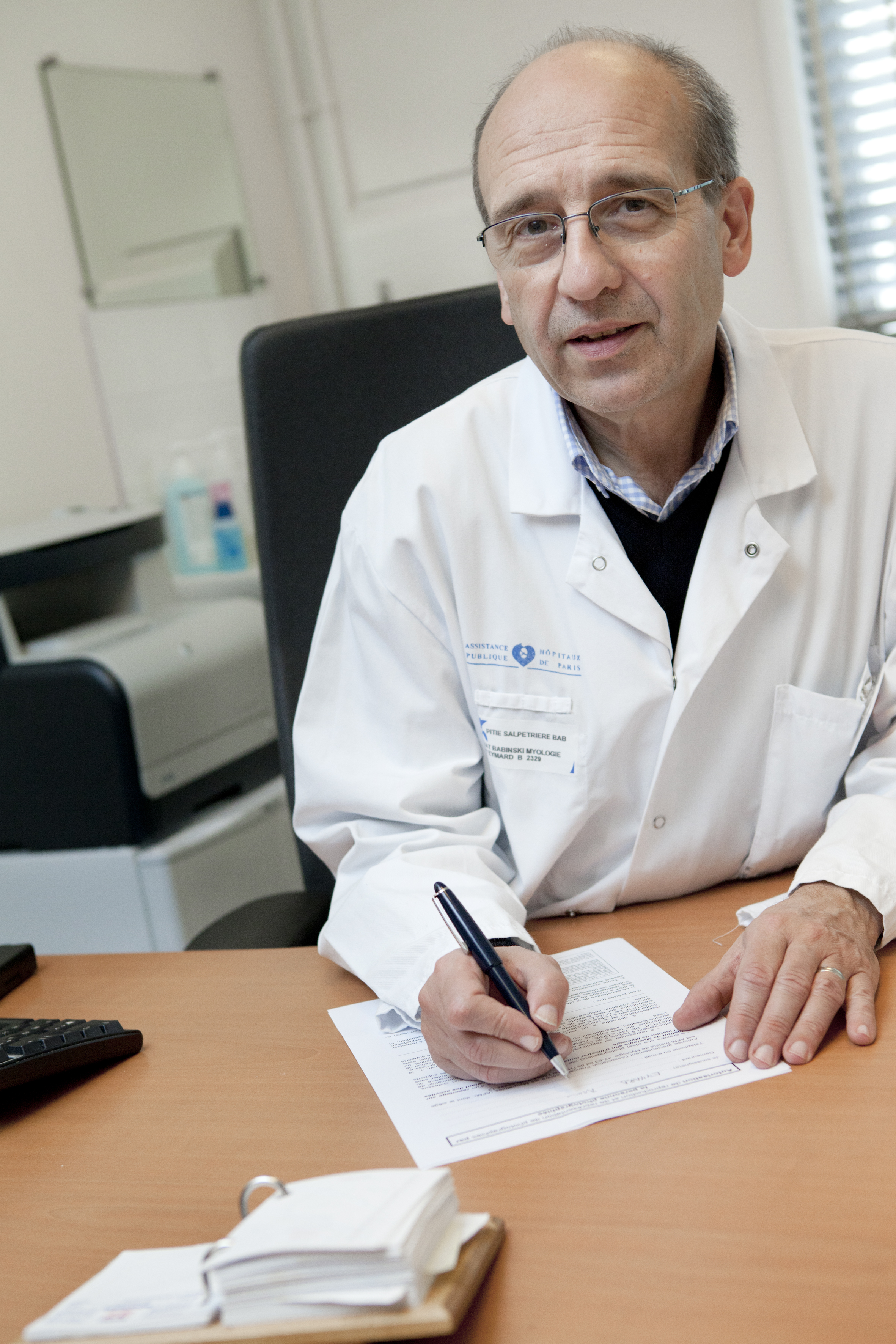 The neuromuscular pathology clinical unit is directed by  Prof Bruno Eymard
Since 2005, this large clinic is an important part of the Reference centre for neuromuscular disorders of East of Paris. It is a set of clinical competences organized round highly specialized medical teams.
In 2014, 4 100 consultations have been provided and 1 816 day hospitalisations have been counted. We receive an exceptional number of patients from France but several patients are sent to us for a second opinion from Belgium, French-speaking North African countries and all Europe.
The fields of competence of our clinical structure include diagnostic expertise in the disease and its complications, therapeutic management, genetic counselling, patient follow-up for all the above elements and clinical research.
The unit provides pluridisciplinary consultations for adults and children. The patient is seen successively by the coordinating physician, a neurologist for the adults and a paediatrician for the children, then by the cardiologist (echography), pneumologist (functional respiratory tests), physiotherapist, psychologist and social worker. Cardiological and respiratory management advice, genetic counselling, help with familial or psychological difficulties and information about quality of life consequences are offered to both children and adults. For adults, emphasis is placed on the functional physiotherapy consultation. However, the paediatric consultation also has its specificities, for example, the importance of orthopaedic problems due to growth, itself justifying specialised medicosurgical advice for possible vertebral arthrodesis or tenotomy of the lower limbs.
The pathologies under examination are either genetic (dystrophies, congenital myopathies, metabolic myopathies, congenital myasthenic syndromes, neuropathies) or acquired (myasthenia gravis, inflammatory, endocrine, toxic or iatrogenic myopathies, psychogenic affections).
Reference centre for neuromuscular disorders
The decree of the Ministry of Health and Social Protection dated 19 November 2004 concerning the labelling of centres of reference for the management of rare diseases designated the Institute of Myology, Pitié-Salpêtrière Hospital, as a Centre for Reference for neuromuscular diseases, along with the specialist departments of the following hospitals: Trousseau (neuropaediatrics department, Dr Mayer and Prof Billette de Vilkemeur) for the management of children affected with chronic neuromuscular diseases, Rothschild for physiotherapy (department of Prof Thoumie) and Tenon (department of Prof Lacau) for the management of pharyngeal-laryngeal disorders. This organisation will open up possibilities of coordinated children-adult management of neuromuscular diseases and their complications.
This labelling will allow the Institute of Myology to develop its clinical management capacities (by shortening the waiting tilmes for pluridisciplinary consultations and emergencies, and recruiting new medical and paramedical personnel) and to consolidate and develop the human and material means devoted to clinical research protocols. The Coordinator at the Institute of Myology is Prof Bruno Eymard, neurologist and Director of the reference centre for neuromuscular disorders. Dr Michèle Mayer, a neuropaediatrician at the Saint-Vincent de Paul Hospital is the Co-coordinator.