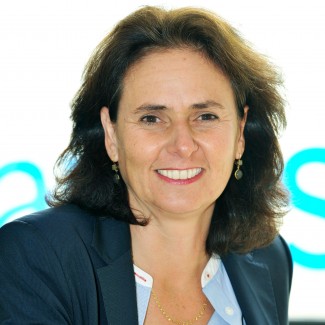 The Institute of Myology was endowed with a strategic project destined to be develop and sustain myology, to raise awareness and for the most part gather attention around the Muscles on the Horizon 2024, the dates of the Olympic games. Interview with Marianne Perreau-Saussine, Secretary General of the Institute.
  
In what context was the "Institute of Myology 2024 Strategic Project" for the institute conducted?
At my arrival, this projet appeared to be essential. I consider, in fact, that for the overall structure, there should be a map that determined a direction, concerning how the community as a whole can recognize it and move in the same direction. From 2016, we set up working groups that assembled about 60 people internally, the project was put on hold until the designation of Bertrand Fontaine as mission director after the president, then the scientific and medical director in 2018. This is how the Institute of Myology became instigated their first, own strategic project.
Why 2024?
There is a very strong ambition for the 2024 horizon, associated with the Olympic games that seem to be an exceptional opportunity to make known and to build recognition of myology in the topics of sports, muscles, innovation, and health. The primary ambition is to gather experts together to focus on muscles in all of their states: athletic muscle, ageing muscle, or healthy muscle, and to benefit from all expertise and experience that we have concerning neuro-muscular diseases in order to study new subjects that remain largely unexplored.
Myology is part of the neurology field, and as the brain has benefited from a large quantity of research, so myology has a real next step to climb over in terms of science, recognition, and diffusion.
The Institute of Myology and the Muscle Foundation, will not only address the neuro-muscular community, but the population as a whole can study muscles in all of their states. From this we see that myology is a true public health issue.
Does this this project mark the entrance of the institute into a new era?
In part an extension of activities, the Myology Institute will become a unique place in the world which covers a large spectrum, from research to muscle care. We must also respond to our challenges by always going farther in knowledge, science and neuro-muscular disease care to support the whirlwind of therapies arriving on the market that will be significant game changers.
What are the different strategic objectives that have been identified?
One objective consists of improving the healthcare journey, reaching a higher level of coordination with the city, with the hospital, and improving care in terms if the patient pathway.
But it's also to pursue research while benefiting from artificial intelligence and unifying different information at our disposal: healthcare data bases with data from X-rays, genetics, functional, biological, and sampling evaluations…It's also to increase its national and intelligence visibility and that of our collaborators with other partners, and other institutes. It's to continue to reinforce the economic model while diversifying funding sources. Finally, it's an issue that concerns teaching in making myology enter into university courses, general practitioner training, paramedic training, there is an enormous playing field where we need to train professionals, but also the general public.
The idea is to transfer information about the muscles to the whole around the myology theme of the population in order for muscles to better recognized and better taken care of. There are pedagogic initiatives to lead that could perhaps occur through a special « muscle day » or through activities with athletic federations and physical therapy centers for those undergoing muscle rehabilitation. The 2024 Olympic Games represent a wonderful opportunity to communicate these messages and to inscribe myology in their heritage.
In order to reach these objectives, what actions will be put into place starting from 2019?
We will finish structuring the clinical trial platform for adults, and use what we gave set up pediatric trials with I-Motion. In parallel, a neuro-myology service with be created within the neurology department, directed by Bertrand Fontaine. Beds will be reserved for patients suffering frol neuro-muscular diseases, with dedicated staff and specialists. We also plan to bring forward projects on ageing muscle and the supported, trained muscles through our current teams, all while organizing the arrival of international researchers. In the coming months, we will create the center of evaluation and exploration of myology that will resembles a united RMN, functional evaluation, and histopathology and myobank center with the goal of strengthening the collaboration and allowing better visibility concerning the tools and the expertise needed to, for example, guide clinical studies.
A number of individuals from the institute have contributed to this strategic project and we appreciate and count on them to continue their involvement in myology. Together, we will successfully accomplish our ambitions.